Eat, Drink And Shop Local In San Angelo, Texas
July 21, 2022
San Angelo, Texas, is a beautiful city ready to be explored. From the unique art and architecture to the great outdoors, the area is brimming with adventure and wonder at every turn. But it's the local restaurants, breweries, ice cream parlors, vintage markets and boutiques that make San Angelo an oasis in West Texas, and the San Angelo community calendar always has an event you can check out. So, whether you're in town for a few hours or a few days, here are the top places to eat, shop and drink when you're visiting this Texas gem.
Culinary Delights
You can't come to Texas and not have Texas beef. In fact, chowing down on brisket and barbecue should be the first thing you do as soon as you step foot in San Angelo.
Start at the Concho Pearl Icehouse. If you're curious about the name, icehouses are a cultural tradition in Texas where buildings used to store ice throughout the year. Today, it generally means a place in Texas where you can get a cold beer, and this former gas station turned icehouse is the perfect place to enjoy a cold one. Go for an ice-cold local beer (Shiner Bock, Pearl or a Lone Star), pork spare ribs or brisket and finish it all off with a burger (because you simply can't beat Texas beef). If you're dining here during the weekends, order the fried chicken and waffles or biscuits with country gravy.
Twin Mountain Steakhouse is another place to get your brisket fix if you're on US Route 67 passing through (or heading out of) San Angelo. This casual chophouse exudes Southern charm with its rustic cabin ambience and it's the place to go for a hearty home-cooked Texas meal. From loaded baked potatoes to margaritas and pitchers of beer, Twin Mountain Steakhouse is comfortable, cozy and serves delicious Texas barbecue.
Last but certainly not least when it comes to steakhouses in San Angelo, Western Sky Steakhouse serves no-frills, Texas-sized plates that are perfect if you're in a hurry. Order a plate to go if you're short on time. Locals recommend American favorites like burgers, steaks and chicken.
When it comes to Italian and world cuisine, San Angelo has a menu for that, too.
Located on South Chadbourne Street, Napoli's Italian Restaurant is one of the most beloved Italian restaurants in town. From pizza and pasta to salads and more, it has everything from the not-so-classic to classic Italian dishes—and it all tastes like grandma made it just for you. Locals also rave about the friendly service at Napoli's. It's hard not to feel like family as soon as you walk in the door.
The Peasant Village Restaurant, an old bungalow built in 1927, is located near the Concho River and the International Waterlily Collection. Chef Jason Helfer, whose father started the restaurant, is setting out to bring world flavors to San Angelo in the form of old-world cuisine. Dining at this eclectic restaurant and deli is an experience you don't want to miss.
For a taste of Mexican food, visit The Original Henry's Diner, where the enchiladas and chicken fried steak are local celebrities. Other specialties include Spanish steak, chili chimichangas and chile rellenos. Bring the whole family to enjoy quintessential Mexican food; you'll be ready for seconds after the first bite.
Armenta's Café, a family-friendly Mexican restaurant on South Oakes Street, is another fantastic place to satisfy your Mexican food cravings. No matter if it's breakfast, lunch or dinner, this restaurant hits the spot when you need a taco or fajitas. Go big and go for the sour cream chicken enchiladas or the pork chops, which will taste delicious after waiting in line to get in— which is pretty common. Locals flock here for dinner every night of the week. Armenta's opens at 7:30 a.m. Monday through Saturday and at 8:00 a.m. on Sunday.
When you want to taste something else besides red meat and Mexican food, head to Nakamura Sushi and Korean Cuisine for something lighter. It serves everything from tempura bento boxes to sushi and sashimi plates to sides of kimchi and rice bowls
You can also enjoy Eastern food at Mathis Field Café. Located in San Angelo Regional Airport at Mathis Field, this Chinese restaurant hits the spot. Don't let the laid-back vibe fool you, the homestyle-cooked dishes speak for themselves.
If you want to do some wining and dining while you're here, visit The Grill to have a nice meal for a special occasion. With an elegant atmosphere, The Grill serves flavorful, elevated meals such as Louisiana pasta and surf and turf to handcrafted cocktails, and its world-class wine list has plenty of whites, reds and rosé wines from which you can choose. When you're ordering, keep in mind that the "everything is bigger in Texas" rule applies to the dishes here.
After enjoying a Texas meal, enjoy a Texas brew at Zero One Ale House, a local San Angelo brewery. You can also order food here to go with your beer. Favorites include the Cheddar Blanket Burger, rib-eye steak and Thai red curry chicken. The menu complements the seasonal beers it has on tap, and you can tour the brewery every second Saturday of the month at 2:00 p.m. If you're visiting on a Sunday, ask about its Bloody Burger and get your smartphone camera ready and your Instagram loaded.
There's no place quite like Miss Hattie's Restaurant and Cathouse Lounge. Located in a building built in the 1880s on the historic part of East Concho Street in downtown, Miss Hattie's has been a staple in town since opening in 1998. Locals can't get enough of this place, which means that you'll need to stop in for yourself to see why. Stepping into Miss Hattie's is a bit like stepping back in time—and that's exactly what makes it so fun.
For the morning after Miss Hattie's, Donutopia has your doughnut and kolaches fix covered. Try one of its unique creations like the Fruity Pebble glazed donut egg and bacon sandwich that's exactly what Instagram dreams are made of. Pick up a few dozen for the road; they make great travel companions.
Speaking of breakfast, Stango's Coffee Shop and Ice Cream Parlor, an old school coffee shop right in the heart of San Angelo, has everything from great coffee to authentic east coast pizza. Old school flares like a jukebox, old arcade games, a soda fountain and more take you back to yesteryear. Its collection of signs and memorabilia will transport you to the 1940s when soda fountains were in their heyday.
Sweet Tooth Cravings
If you're on West Conch Avenue, visit The Latest Scoop to taste some of the best ice cream and frozen yogurt in Texas. You can't miss the blue and gray mosaic tile storefront that greets you as you walk into a world of delicious ice cream. The flavors change depending on the day, but all are a hit, from Mexican Vanilla to Ghirardelli Chocolate Chocolate Chip and Sea Salt Butter Pecan.
If you're craving more sweets, head to Cowboy-Up Chocolates where you can buy chocolate to go. From salt lick clusters to Texas truffles, your sweet tooth will be jumping for joy. These treats also make for great gifts. The selection of chocolates is fun and quirky, all with Texas-themed names.
Retail Therapy
When it comes to shopping in San Angelo, you have plenty of stores and shops to choose. Start your shopping adventure at Concho Confetti Antique Mall. The antique mall, right on Concho Avenue and part of Historic Block One, is filled with over 30 antique dealers who have everything from antiques and collectibles to home décor, jewelry, candles, furniture and more. Even if you're not a big shopper, you should still visit to see what treasures you may find.
If you're a bibliophile, Cactus Book Shop is your home away from home. Specializing in Texana and Western Americana and Elmer Kelton books—a man who was an American journalist and writer known for his Western novels—Cactus Book Shop is a treat for anyone interested in stories and books.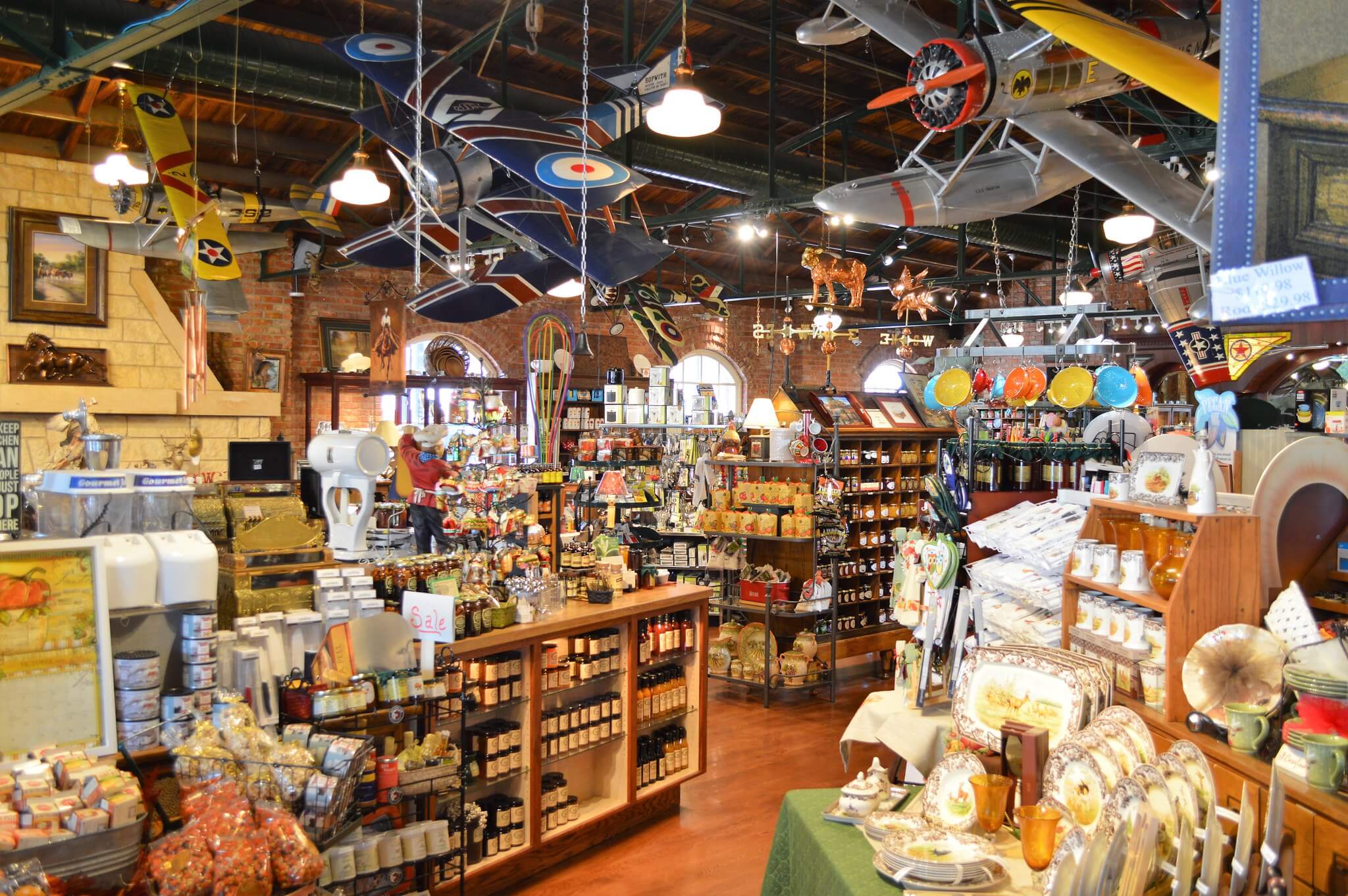 Eggemeyer's General Store is exactly what its name means, a general store with anything and everything you could need or imagine. A cross between a coffee shop, candy and fudge store, Christmas shop and gourmet kitchen store, Eggemeyer's is where you go when you aren't exactly sure what it is you're looking for. Try not to get lost in here for hours, even though all trinkets will amaze you.
From fine Western jewelry to engagement rings and more, Holland Jewelry is one of San Angelo's most-respected jewelry shops. From designer jewelry to brands such as Pandora and John Hardy to Simon G and watches from Seiko, there's a reason Holland's has been around for more than 100 years. You can also find beautiful jewelry on consignment.
Another exquisite jewelry store in town is Legend Jewelers, which is home to the Concho Pearl. With the largest selection of Concho Pearl and rare colored stone jewelry in west Texas, Legend Jewelers is also known for its custom designs, with diamonds of all shapes and sizes available for purchase right in the store.
You can't come through this part of Texas without looking for a new pair of cowboy boots. M.L. Leddy Boot and Saddlery is one of the finest western boot stores in the states, and it's been that way since M.L. Leddy started this company in the 1920s. The business is still family-owned, and it's one of the most iconic storefronts in San Angelo. Pop in and pay your respects to Mr. Leddy and see what goes into handcrafting these incredible boots.
If vintage shopping is your style, Madstyle Vintage is the place to head for one of the largest vintage collections in town. You never know what you'll find here—from rugs to lamps and furniture. Madstyle is filled with unique treasures, all of the highest quality.
Opened in 1978, Heritage Haus Clocks is a staple in San Angelo. Filled with a fine selection of clocks, fans and gifts, Heritage Haus Clocks is the perfect place to find a meaningful gift for someone back home. From grandfather clocks to cuckoo clocks, you never know what gem you'll find in here, which is exactly why you need to stop in during your visit to San Angelo.