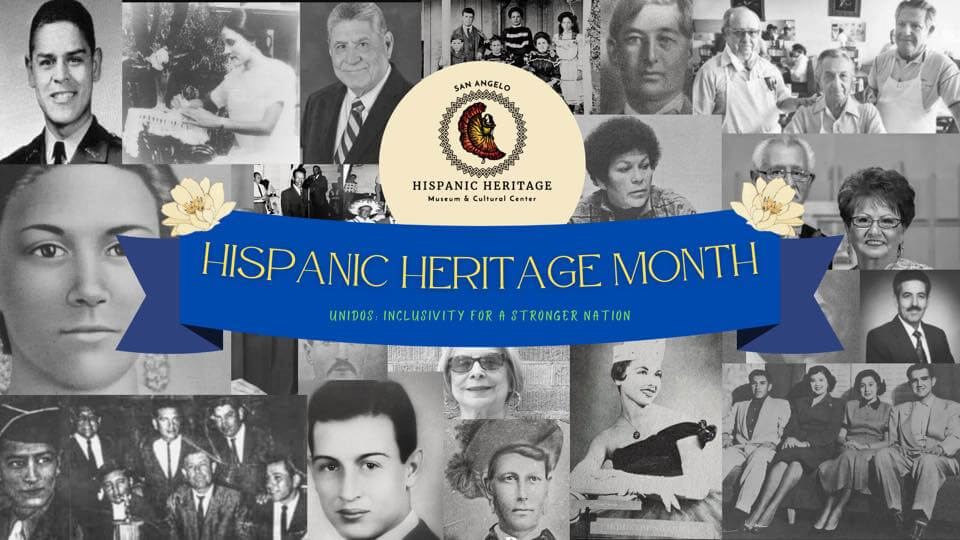 2022 Hispanic Heritage Month Celebration
72 West College Ave
Price: Free
Date: September 15, 2022
Time: 10:00 am
Hispanic Heritage Month – "Unidos: Inclusivity for a Stronger Nation." September 15th through October 15th we celebrate, honor, and pay tribute to the Hispanic community for all for their contributions to our city and our society.
The San Angelo Hispanic Heritage Museum & Cultural Center invites the press and the public to attend a celebratory commencement in honor of Hispanic Heritage Month. The kickoff will begin at the steps of San Angelo City Hall (72 West College Avenue) on Thursday, September 15, 2022, at 10 am.
The ceremony will begin with a performance by Lakeview High School Mariachi group-Los Caciques, followed by the National Hispanic Heritage Month Proclamation read by City Manager Daniel Valenzuela. Guest speaker, San Angelo Police Department Lieutenant Mike Hernandez will share his thoughts on Hispanic Heritage month. Then a special performance by the Damita's y Charrito's de Fort Concho Elementary. Enjoy the musical talents of Tommy Tarango, a San Angelo native and Lakeview High School graduate as he pays tribute to Vicente Fernandez (an icon of traditional Mexican music) by performing two of his legendary songs.
The month-long celebration recognizes the valuable contributions made by citizens of Hispanic descent to all aspects of American life. Hispanic Heritage Month provides a special opportunity to focus on the many Hispanic Americans whose lives have shaped our common history and heritage. It is imperative to embrace our diverse history so that all children can see themselves in our City and Nation's past and know that they have a crucial role to play in its future.