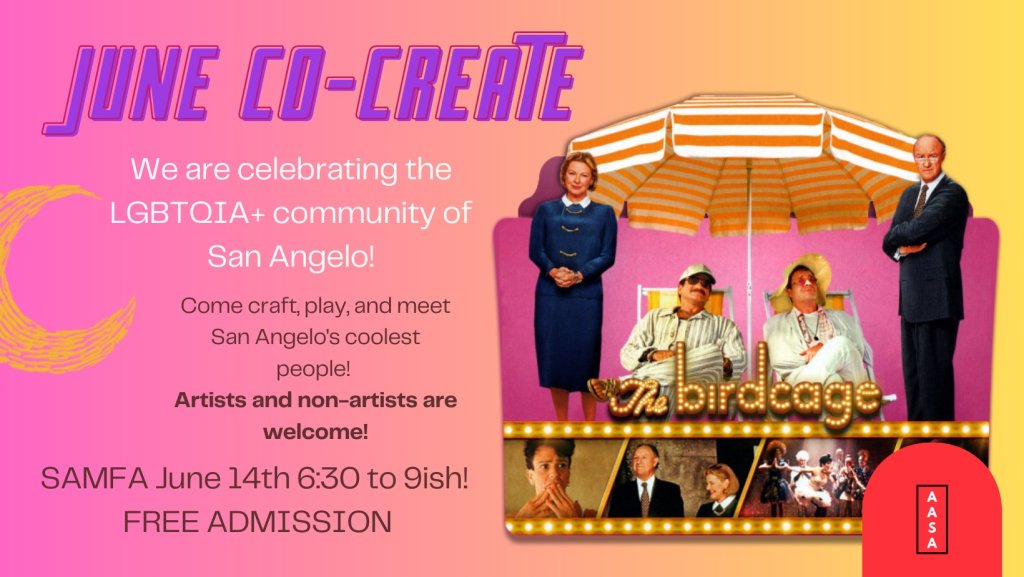 Art Alliance of San Angelo June Co-Create at SAMFA!
1 Love St
San Angelo TX
Price: Free
Date: June 14, 2023
Time: 6:30 pm
Come out and play with us! In our co-creates, we focus on sparking our inner child and creating for the joy of, well, creating~ This is a zero-productivity zone! We'll have coloring books, coloring pages, blank paper, and just crafty stuffs, but you are welcome to bring your own!
This is open to EVERYONE! You don't need to be an artist! It's 100% free and BYOB. Kids over 13 are more than welcome and kiddos under 13 are welcome with a parent!
This June's co-create we are celebrating our LGBTQIA+ community! We are watching Robin Williams' and Nathan Lane's The Birdcage while we create!
We will be having this event in the education room at the San Angelo Museum of Fine Arts. It begins at 6:30 and we'll be there till 9ish! Come and go as you please!