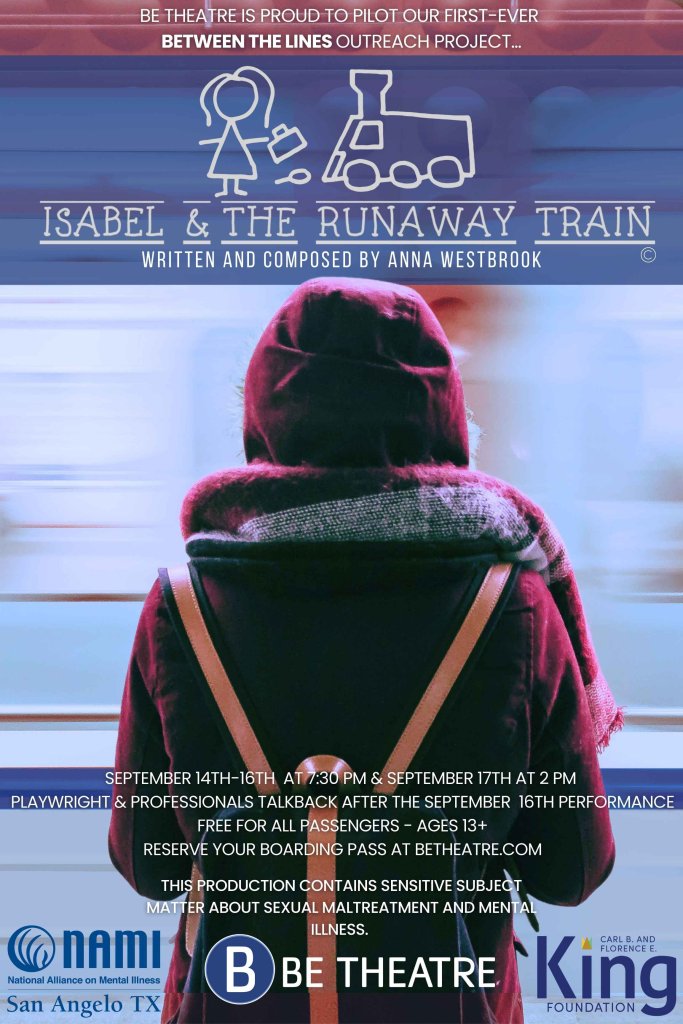 Be Theatre's Isabel and the Runaway Train
82 Gillis St
San Angelo TX, 76903
(832) 350-5276
Price: Free
Date: September 14, 2023 to September 17, 2023
Time: 7:30 pm - 2:00 pm
Be Theatre has had over a decade of success with its annual Literature Alive Project, which works to bring popular children's books to life on stage and gives kids their own copy of the story for free. This year, Be Theatre is piloting our new teen outreach program called the Between the Lines Project! We hope that every season, Be Theatre can produce an impactful production that partners with local organizations and experts to open up discussions and build awareness towards issues faced in our own neighborhoods.
We are piloting our Between the Lines Project with a musical called Isabel and the Runaway Train. Isabel and the Runaway Train is about a young girl that escapes onto a magical train and discovers more about her past. The mission of this important show is to normalize the ability to respond supportively to a survivor of sexual maltreatment. The play does discuss sensitive subject matter such as sexual maltreatment and mental illness, but there is no nudity, violence, or severe and graphic language included.
This musical will be completely free to all passengers ages 12+. Although the show is free, we do ask everyone to reserve their "boarding pass" so that you are guaranteed your spot in the theatre. Five minutes before the performance, we will open up the theatre to people who did not reserve their seats, so please make sure you arrive early!