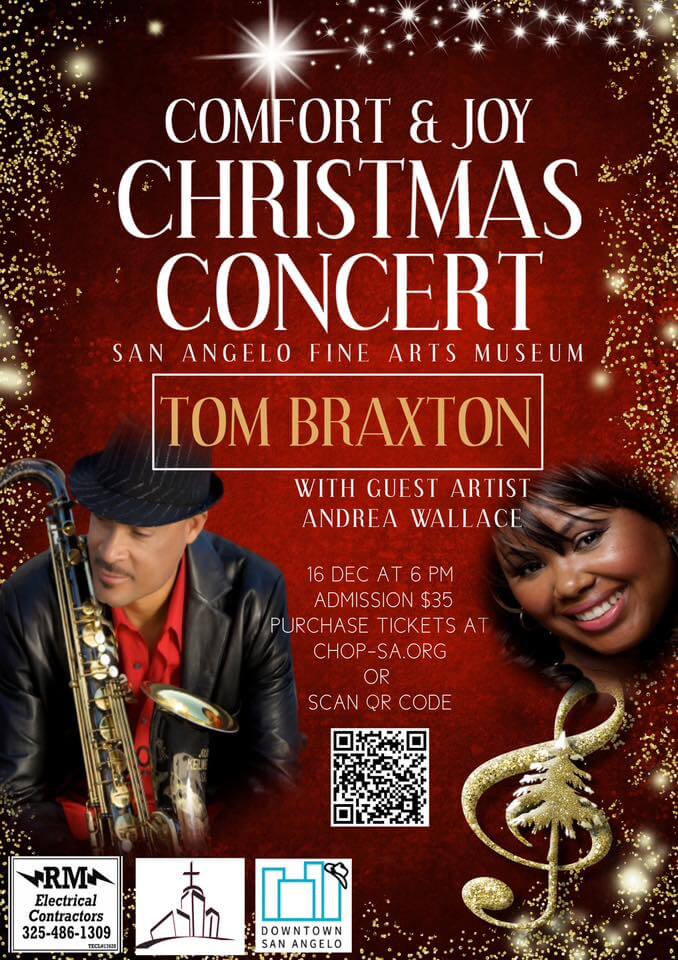 Comfort & Joy Christmas Concert
1 Love Street
San Angelo TX
Price: Free
Date: December 16, 2022
Time: 6:00 pm
Jazz itself is a mystique, wrapped in an enigma.
On Friday, December 16, 2022, Downtown San Angelo, Inc will host "Comfort & Joy" a Christmas Jazz Concert featuring Tom Braxton and vocal soloist Andrea Wallace. Tom is a saxophonist and composer who was inducted into the West Texas Walk of Fame in 2017; his distinctive and recognizable sound, which incorporates elements of Jazz, Latin, Funk, and R&B leaves listeners spellbound, filled with a sense of joy as his music swirls through their souls.
This charismatic performer has been a headliner at the Algarve Smooth Jazz Festival in Portugal, the Stanbic Jazz Festival in Ghana, the Smooth Jazz Europe Festival in the Netherlands, and the Nile Gold Jazz Safari in Uganda. He's also shared the stage with many notable artists, including Aretha Franklin, Luther Vandross, Bob James, Brian Culbertson, Candy Dulfer, Warren Hill, Jonathan Butler, Peter White, Jeff Golub, and Norman Brown.
Downtown San Angelo, Inc. and The Christian House of Prayer of San Angelo welcomes all to attend! The show will be held at the San Angelo Fine Arts Museum on Friday, December 16, 2022, at 6 PM. The concert's purpose is to provide enjoyable Christmas music in a genre that will appeal to all!