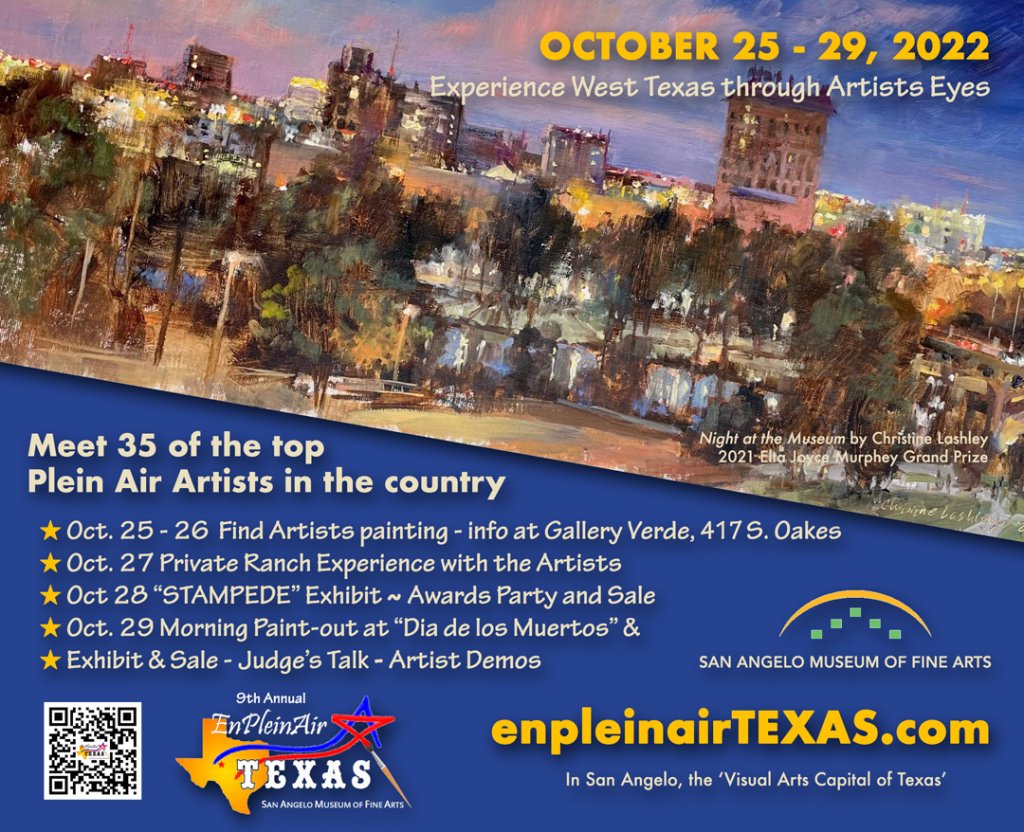 EnPleinAirTEXAS 9th Annual International Outdoor Painting Competition
1 Love St
San Angelo TX, 76903
(325) 653-3333
Price: Price Varies
Date: October 24, 2022 to October 29, 2022
Come watch up close and meet award-winning artists from across the U.S. as they paint their interpretations of our rivers, countryside, city and West Texas culture!
Artists from 27 states, Puerto Rico and Nova Scotia applied, hoping to be one of the 35 selected to come paint by 2022 juror Michael Grauer, the McCasland Chair of Cowboy Culture and Curator of Cowboy Collections & Western Art at the National Cowboy & Western Heritage Museum in Oklahoma City.
WEST TEXAS RANCHES HOST ARTISTS!
After spending 4 days living and painting on area ranches, the artists arrive in San Angelo on Monday, Oct. 24th for a Welcome Party on the deck of the San Angelo Museum of Fine Arts overlooking downtown and the river. You'll be able to see some of their ranch paintings the following day at Gallery Verde, Event Headquarters.
ARTISTS PAINTING DOWNTOWN SAN ANGELO & ART EXHIBIT & SALE!
October 25 – 26th, Tues – Wed ~ Artists will gather in advertised spots near downtown and the museum both days so anyone can come watch and meet them while painting.
Find select artwork from the artists' time on the ranches for sale at EPAT Event Headquarters GALLERY VERDE, 417 S. Oakes near downtown & the museum. Get event information, where to find the artists, purchase tickets for The Stampede, tshirts, and more.
"RANCH EXPERIENCE with the ARTISTS"!
October 27th, Thursday ~ Spend a morning on an area ranch 'artist-hopping' as you are transported on ranch vehicles all morning to where the artists are painting in various locations! Stop, visit and then enjoy lunch with the artists and a private showing of what they painted during the morning. A limited number of tickets go on sale online in August for this special event.
https://www.enpleinairtexas.com/2022-field-ranch-experience-with-the-artists
"THE STAMPEDE!" Exhibit & Awards Party and Sale
October 28th, Friday evening ~ at the Stables at Historic Fort Concho.
Be the first to view the full collection of artwork from a week of painting in West Texas – close to 400 paintings will be on display and for sale at this festive affair! 2022 Awards Judge Michael Obermeyer of Laguna Beach, California will announce the winners of over $30,000 in cash and merchandise awards.
$100 per person tickets include a $100 credit towards purchase of a painting during the weekend. Purchase online soon or by calling the museum at 325-653-3333.
During the day Friday ~ Visit the exhibits at the San Angelo Museum of Fine Arts!
– True Texas II – Folk & Traditional Arts from the Concho Valley to the Rio Grande
– The Angelo State University Art Faculty Biennial Exhibition
https://www.emailmeform.com/builder/form/B0vuT0txQGV272qj
MORNING PAINT-OUT at Dia de los Muertos!
October 29th, Saturday
9 am to noon – Wander along the Paseo sidewalk behind the museum from the Windmill at Avenue A to across the river and you'll find the EnPleinAirTEXAS Competition Artists & other area artists painting the colorful and cultural sights of the Hispanic celebration called 'DIA de los MUERTOS' (Day of the Dead). Families honor their loved ones who have passed away with altars, special dancers and music.
Come watch and join in the fun as the artists are bombarded with a rainbow of costumed dancers, Mariachi band students, 9 ft Mojigongos puppets, and a car show! Kids are free and 18 & older can register for $10 and paint for prize money. The DIA de los MUERTOS Celebration is hosted by the San Angelo Hispanic Heritage Museum
CHILDREN'S PAINT-OUT & ART SCAVENGER HUNT!
10 am – 12 noon – Come paint and pick up FREE Art packets & Scavenger Hunt Cards near the main altar stairs behind the museum (One Love St)
9 am to 5 pm Saturday at the STABLES at Fort Concho ~
OPEN FREE to the Public!
ALL DAY – Over 250 paintings created this week for sale!
ALL DAY – Kids Art Scavenger Hunt & Art Packets with prizes!
1:30 pm – First view of the "Mini-Pearls of the Conchos", 35 new small paintings will be up for grabs!
2:00 pm – Judge's Talk – Awards Judge Michael Obermeyer shares his reasons for selecting the prize-winning paintings.
3 to 5 pm – Artist Pop-Up Demos, Music, and Final Sales of the 2022 EnPleinAirTEXAS paintings!
The Accepted Artists to the 2022 EnPleinAirTEXAS Competition:
Ebrahim Amin, La Marque, TX; Kirsten Anderson, Long Beach, CA; Suzie Baker, Shenandoah, TX; Liz Bonham, Keller, TX; Carla Bosch, Liberty Hill, TX; Anthony Bowes, Chesterfield, VA; Wendy Brayton, Petaluma, CA; Kent Brewer, Waxahachie, TX; Allen Brockbank, Centerville, UT; Karen Cooper, Grinnell, IA; Michael Compton, Cambridge, MA; Bill Farnsworth, Venice, FL (2021 2nd Place Award winner); Julia Fletcher, Goldthwaite, TX; Catherine Hillis, Locust Grove, VA; Hai-Ou Hou, Stevensville, MD; Qiang Huang, Cedar Park, TX; Kathleen Hudson, Colorado Springs, CO; Russell Jewell, Easley, SC; Rajendra KC, Falls Church, VA; Mat Barber Kennedy, Chicago, IL (2021 Artists Choice Award winner); Christine Lashley, Reston, VA (2021 Elta Joyce Murphey Grand Prize winner); Christopher Leeper, Canfield, OH; David Diaz, Annapolis, MD
Farley Lewis, Springfield, MO; Jeff Markowsky, Savannah, GA; Laura Martinez-Bianco, Marlboro, NY; Lisette McClung, League City, TX; Spencer Meagher, Mount Vernon, IL (2021 3rd Place Award winner); Crista Pisano, Nyack, NY; Tat Robberts, O'Fallon, IL; Julie Sanderson, Montgomery, TX; Todd Saal, Nolensville, TN; David Savellano, Alameda, CA; Richard Sneary, Kansas City, MO (2021 Body of Work Award winner) and Irena Taylor, San Antonio, TX.
(Artists in bold were automatically juried in as last year's top 5 winners)
For more information: Click to website or email: paint@enpleinairTEXAS.com
All sales benefit the San Angelo Museum of Fine Arts & the artists.