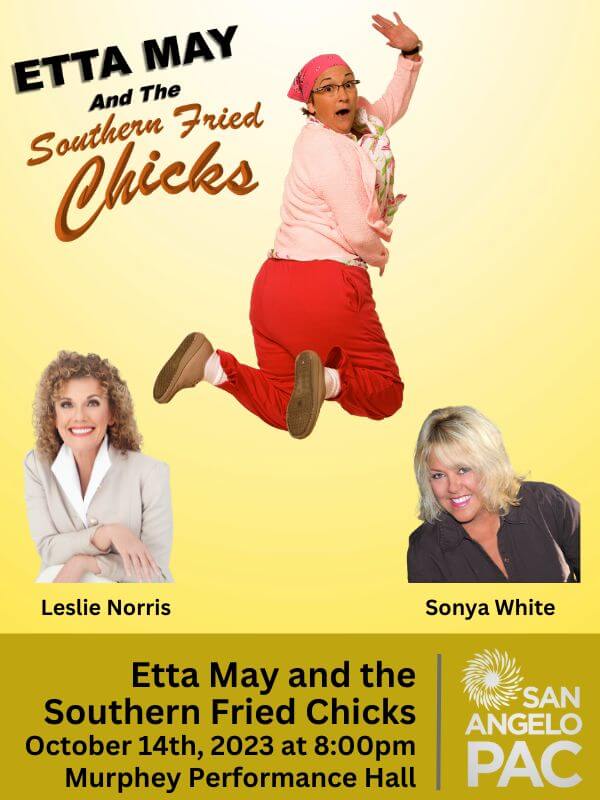 Etta May and the Southern Fried Chicks
72 W College Ave
San Angelo TX, 76903
Price: Free
Date: October 14, 2023
Time: 8:00 pm
Etta May has performed her brand of clean-comedy on Oprah, Showtime, Comic Strip Live, MTV, and as a guest commentator on "CBS Sunday Morning," Winner of the prestigious American Comedy Awards "Comic Of The Year," and so much more. In addition, she headlines the successful all-female comedy tour, "Etta May and the Southern Fried Chicks," selling out theatres all over the country. Think Blue Collar Comedy Tour with better hair and a bigger attitude! In addition to television, Etta May is a regular on Sirius-XM Comedy Channels and the syndicated Bob & Tom radio show.
Born and in Bald Knob, Arkansas, Etta May grew up alongside nine older brothers, who referred to their baby sister as "the human sacrifice." Etta May's parents – her father, a potpourri farmer, and her mother, bedridden by constant childbearing – didn't realize she was a girl until she needed a training bra.
Untitled-1.png
She met her husband, Delbert, an aspiring truck driver, at a friend's kegger. From across the yard, their eyes locked in a loving look, you know that stare that lasts a moment too long. Nine months later, she was blessed with a boy, and three more kids followed. "That's where my comedy comes from. I just wait for my husband or kids to do something stupid, and then I write it down."
Before finding success as a stand-up comic, Etta wandered from dead-end job to dead-end job, including a 10-year stint as a school bus driver. She says she learned how to handle unruly kids by Armor-Alling the seats and slamming on the brakes all the way to school. Her theory: "Kind of hard to pick a fight with the kid in front of you when you're just holding on for dear life."
Then she decided to take a chance on herself and follow her dream. Lots of hard work and drive, and a few years later, she wins "Female Comic Of The Year" at the American Comedy Awards. It's the American Story we are all told that you can become anything you set your mind to in this great country, and for Etta May, it worked!