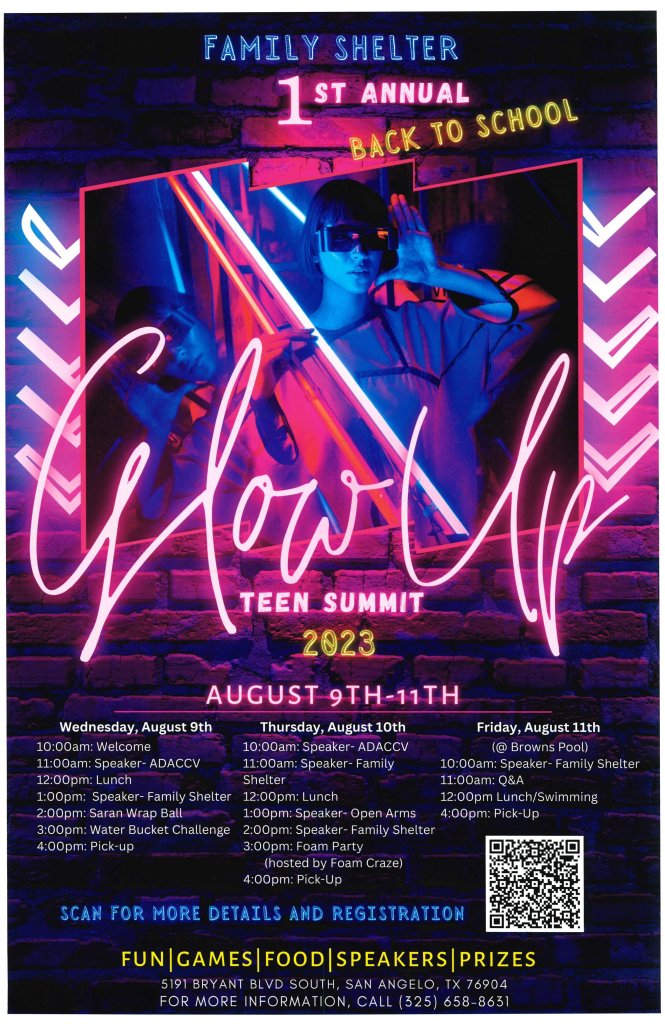 Glow Up Teen Summit
5191 Bryant Blvd South
San Angelo TX
Price: Free
Date: August 9, 2023 to August 11, 2023
Time: 10:00 am - 4:00 pm
Get ready to GLOW-UP!!
The Family Shelter's 1st Annual Back-To-School Glow-Up Teen Summit will be August 9th through August 11th, 2023 from 10am to 4pm at 5191 S. Bryant Blvd and Brown's Pool!
Come hang with us and learn healthy ways to get through some of those tough teen issues like dating, inclusion, cyber safety, vaping and underage drinking. We'll talk about what you can do to improve your self-esteem, the importance of setting (and sticking to!) personal boundaries, and how to handle conflicts.
Of course we'll also be doing cooler things like eating pizza, tearing up saranwrap balls full of candy & gift cards and trying to stay dry during the water bucket challenge. And did someone say foam party?!
By the end of the week, you'll have a nifty new T-shirt and the tools you need to be back-to-school ready!
Click this link for a detailed schedule and to register!
https://docs.google.com/…/1FAIpQLScAlwdeP7W…/viewform