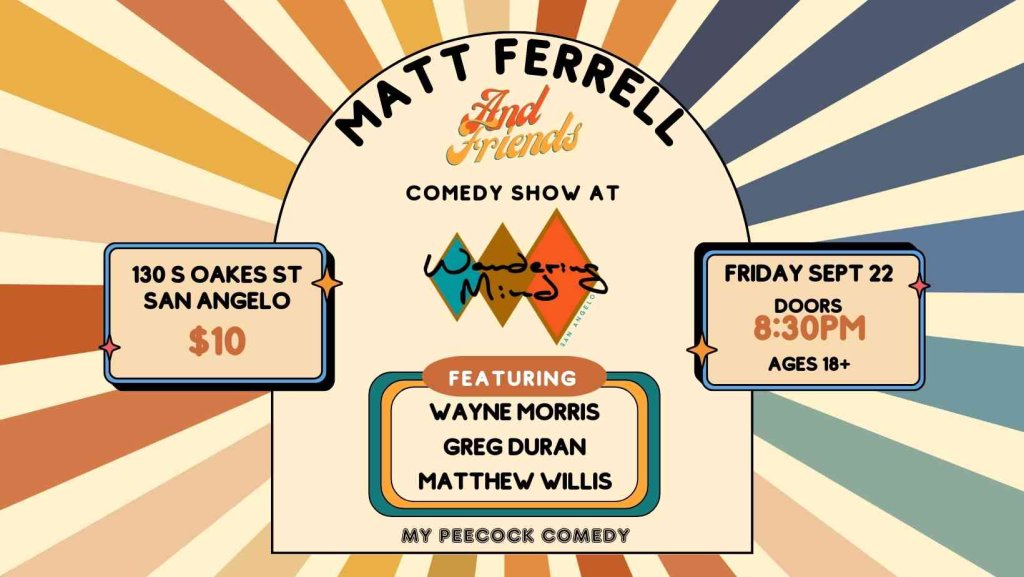 Matt Ferrell & Friends – A Night of Comedy at Wandering Mind
130 S Oakes St
San Angelo TX, 76903
Price: Free
Date: September 22, 2023
Time: 8:30 pm
Join us Friday, September 22nd for a night of comedy hosted by My Peecock Comedy. Doors at 8:30, show at 9 PM. $10

The brewery is open for regular business from 4-8:15 PM and we will transition to the ticketed event at 8:30 PM

Meet Matt Ferrell, the witty comedian hailing from the heartland of southwest Oklahoma. With his captivating storytelling style, Matt has left audiences in stitches all over the south-central region, gracing stages in states such as Oklahoma, Texas, Arkansas, Kansas, and Missouri, and even venturing up into Iowa.

Matt's comedy is a tapestry of relatable anecdotes, delving fearlessly into subjects like marriage, parenthood, the art of drinking, and some refreshingly personal topics. He effortlessly connects with diverse audiences, leaving no funny bone unturned and ensuring that everyone shares in the laughter.

Recognizable from his appearances at renowned comedy venues like Hyenas Comedy Clubs in both Dallas and Fort Worth, Bricktown Comedy in OKC, The Nuthouse Comedy Lounge in Little Rock, Arkansas, and the Tulsa Comedy Club in Tulsa, Oklahoma, Matt's comedic prowess has even caught the attention of the TV world, landing him a spot on "Kenan Thompson Presents."

If you find yourself with the chance to catch Matt Ferrell live on stage, you won't want to miss it. Prepare for a side-splitting experience that will leave you eagerly awaiting the next time you can laugh along with this comedic gem.