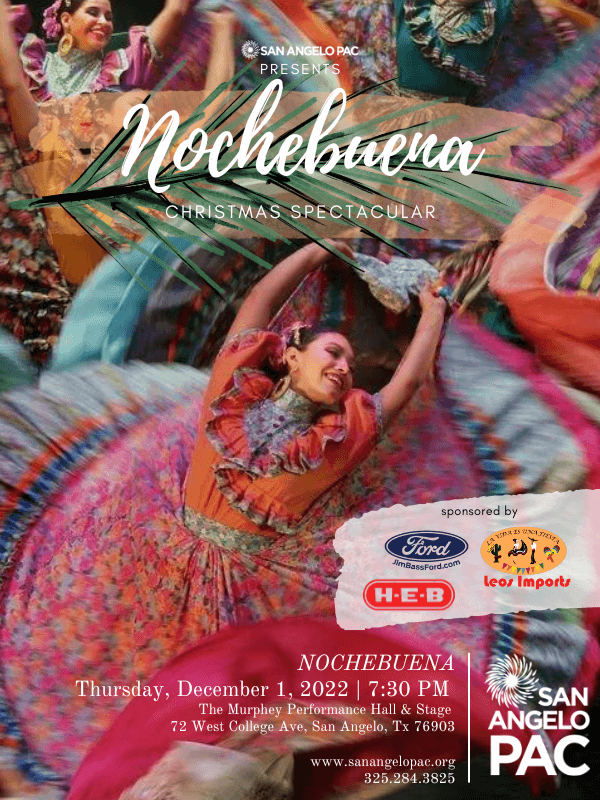 Nochebuena: A Christmas Spectacular
72 W. College Ave
San Angelo TX, 76903
(325) 284-3825
Price: Price Varies
Date: December 1, 2022
Time: 7:30 pm - 9:00 pm
This concert features an all-star cast of music and dance, with the esteemed Ballet Folklórico de Los Ángeles and Mariachi Garibaldi de Jaime Cuéllar, presenting traditions and customs that people in Mexico celebrate during the Christmas season.
​This spectacular show focuses on Nochebuena (Christmas Eve), where Mexican families attend midnight mass before returning home to a late-night feast that includes foods like bacalao, ham, turkey, tamales, and mole, with ponche to drink and lots of music! In Mexico, Christmas is a whole season of Christmas-related celebrations, representing a blend of indigenous culture, Spanish heritage, and influences from other cultures.
Ballet Folklórico de Los Ángeles catapulted to international fame when they danced at the 90th Annual Academy Awards in celebration of the Pixar movie, Coco, also performing at the D23 Expo, the Coco Premiere at the El Capitan Theater, and "Disney Night" on Dancing With The Stars, working alongside Natalia Lafourcade, Gael Garcia Bernal, and Miguel as they sang the award-winning "Remember Me." Founded in 2011 by Kareli Montoya, BFLA has worked on stage with Grammy Award winners Lila Downs, Pepe Aguilar, Mariachi Divas, and Mariachi Camperos. This versatile group performs both traditional and modern regional dances in world-class venues including the Dolby Theatre, the Greek Theater, and the Ford Amphitheater with as many as forty-eight dancers!
From their multi-styling videos with pop sensation, Camila Cabello to the wonderful "Jacket Exchange" with Los Angeles Dodgers relief pitcher Joe Kelly, who proudly wore it to the White House to meet Joe Biden, Mariachi Garibaldi de Jaime Cuéllar has truly become America's Mariachi. With a 26-year history of shows that delight audiences at both intimate venues and major theaters throughout the U.S. and Mexico.