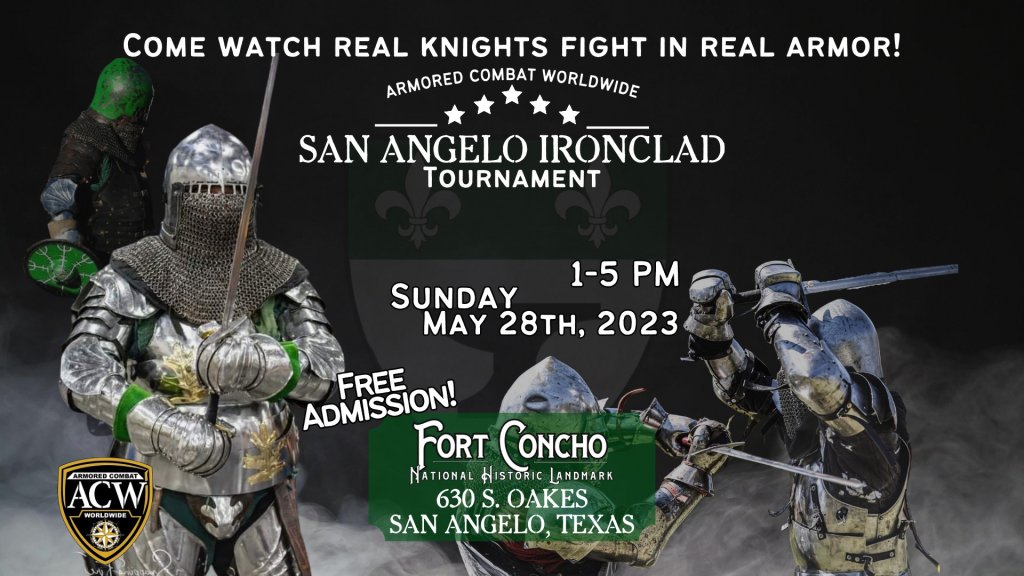 San Angelo IroncladFirst Annual Dueling Tournament
630 S Oakes
San Angelo TX
Price: Free
Date: May 28, 2023
Time: 1:00 pm - 5:00 pm
Here ye! Here ye!
Attention all San Angelo! Get ready for a new and exciting event for the whole family!
Come out to our historic Fort Concho to watch medieval knights duel in full steel medieval armor!
Once where the Buffalo Soldiers of the 10th Cavalry marched the parade field, your local knights, San Angelo Ironclad, will don their armor, take up their swords and shields and take on other fighters from around the nation in medieval armored combat!
Two time periods collide into one on Sunday, May 28th, 2023.
It is FREE and open to the public! We will have benches around the list (fighting ring), but get here early! Seating is limited. However, feel free to bring your own lawn chair.
Our First Annual Dueling Tournament commences at 1 PM and will end at 5 PM or until one fighter is left standing! Come out, watch, and learn about medieval armored combat!
In between fights, we will show off the types of weapons we use, talk about the different dueling categories, and much more!
You will get to meet your local knights, and also get pictures with your favorites!
Did we mention that we will have a fun children's activity table?!
Although the event is free, donations are greatly appreciated!
So come on out San Angelo!
Come and support your local knights!