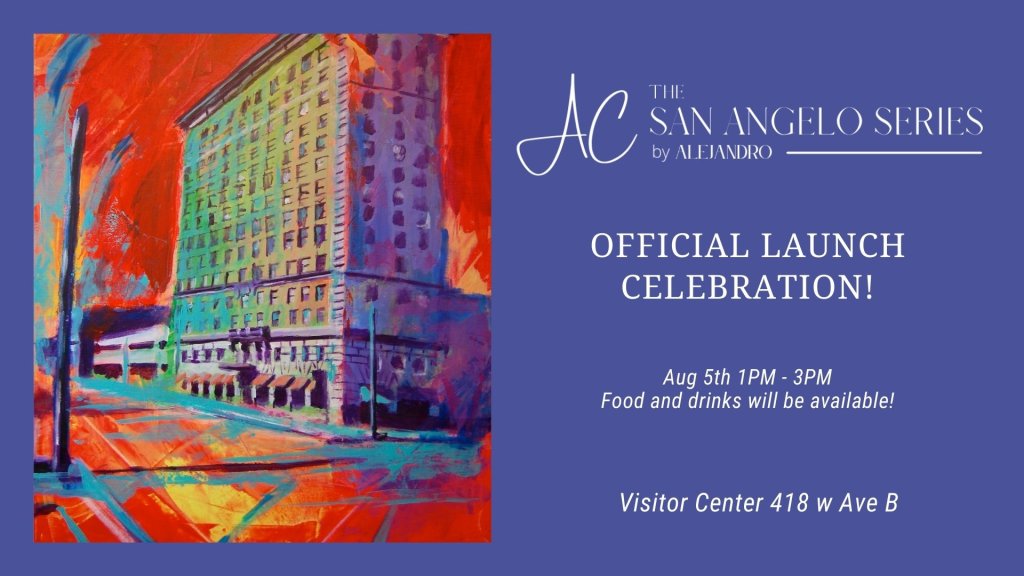 San Angelo Series Official Launch Celebration
418 W Ave B
San Angelo TX, 76903
alejandrofacustomerservice@gmail.com
Price: Free
Date: August 5, 2023
Time: 1:00 pm - 3:00 pm
🎨 Join us for an extraordinary art celebration like no other! Introducing the grand unveiling of the highly anticipated "San Angelo Series" by local artist, Alejandro Castañon. Immerse yourself in a journey through the heart and soul of San Angelo as captured through Alejandro's brushstrokes and vivid imagination.
In addition to the originals, you'll have the opportunity to take home a piece of this remarkable series with our exquisite giclée canvas prints, postcards, and an array of unique merchandise. Whether you're an art connoisseur or a passionate admirer, there's something for everyone to cherish and commemorate this event.
And that's not all! We invite you to pick up pre orders, where you can be among the first to own a masterpiece from the San Angelo Series at a one time price. Enjoy the company of fellow art enthusiasts, as we celebrate the rich cultural tapestry of San Angelo.
To add to the festivities, we'll be serving delectable light refreshments that will complement the artistic ambiance.
Mark your calendars and join us at this momentous occasion on 05 Aug at San Angelo Visitor Center. Don't miss out on this celebration of art, community, and the vibrant spirit of San Angelo. See you there! 🎉