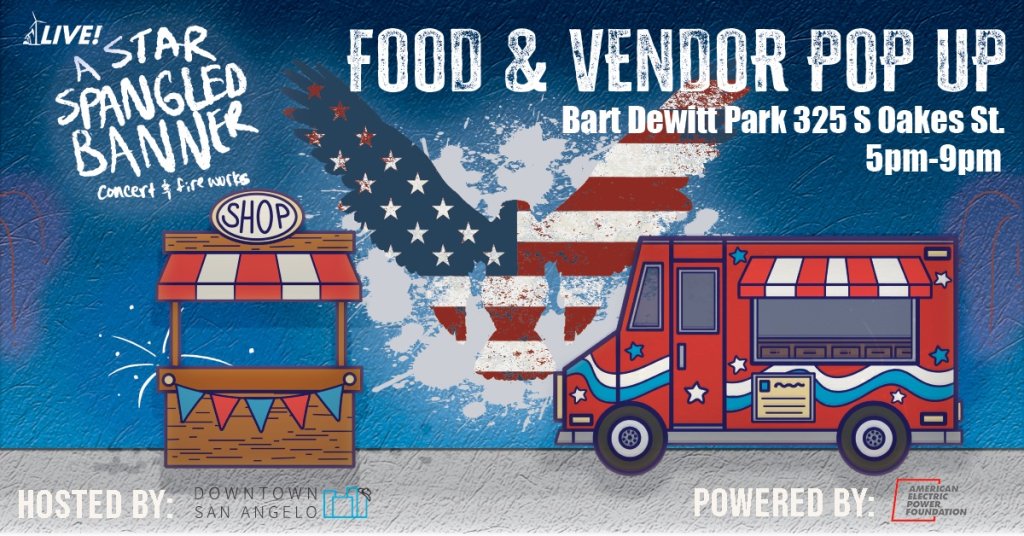 Star Spangled Banner Food & Vendor Pop Up
330 S Irving St
San Angelo TX, 76903
Price: Free
Date: July 3, 2023
Time: 5:00 pm - 9:00 pm
The 3rd Annual Star-Spangled Banner Concert & Fireworks brought to you by title sponsor AEP Texas Foundation and hosted by Downtown San Angelo, Inc. will begin at 6:30 p.m. on Monday July 3rd, 2023.
This year's Star-Spangled Banner organizers aim to highlight the best of San Angelo, as a designated "Music Friendly City" by the Governor. The event will commence with traditional Mariachi music performed by Lake View High School's renowned and award-winning Mariachi Band- Los Caciques. Following the Mariachis, Jazz Concho, a band organized by John Talley and John Irish will take the stage. The San Angelo Community Band will follow with a repertoire of patriotic music. Following the fireworks, the RiverStage will come alive with an interactive contemporary music show during The After Party featuring West Texas Funk, a local band who performs across the state.
Admission to the RiverStage is free. However, no coolers or alcoholic beverages will be allowed. The gates open at 12 noon. Bring your blankets and lawn chairs.
••••••FOOD & VENDOR POP UP WILL BE HELD AT BART DEWITT PARK/NEFFS PARK- 325 S OAKES STREET from 5pm-9pm••••••••
Craft Vendors may e-mail
" info@dtsa.org " to participate.
(No longer accepting food vendors at this location. Food vendors may contact hispanicheritage.sa@gmail.com for availability at the Farmers Market Pavilion)