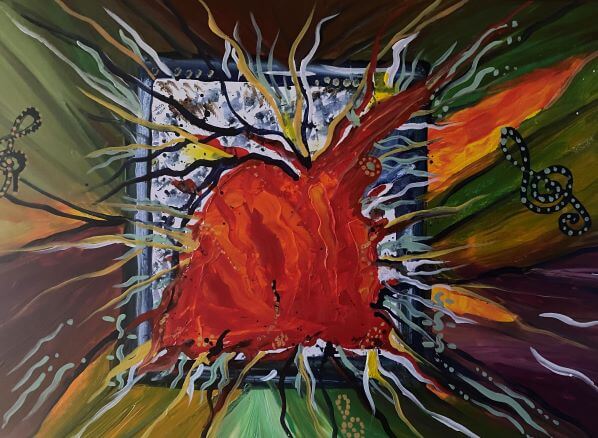 "The Things I Love" Art Show and Sale
38 North Chadbourne
San Angelo TX, 76903
Price: Free
Date: February 2, 2023 to March 3, 2023
Time: 4:00 pm
Raw 1899 features
artist Frank Dubek, February 2 to March 3
San Angelo, TX: Raw 1899, San Angelo, Texas' premier art lounge, presents The Things I Love Art Show and Sale, February 2 to March 2, 2023, featuring the work of artist Frantisek ("Frank") Dubek.
The Opening Champagne Reception will be Thursday, February 2, from 4 to 8 p.m., and the public is invited to meet the artist. There is no cost to attend.
An accomplished artist, Frank began drawing with charcoal but now works in several media, including pastel and acrylic. One hallmark of his expressionistic style is the use of bold, vivid colors. He has sold more than 800 original works of art, and many are available in prints.
His amazing escape from communist Czechoslovakia (now separately the Czech Republic and Slovakia) in 1984 in a quest for freedom in the United States even now informs his art and life in many ways.
His efforts were thwarted in various ways, including being jailed in West Germany (now the Federal Republic of Germany). Finally, in 1987, he set foot on American soil, legally. His dream was realized.
Dubek and his wife, Lynda Conley, live in San Angelo, Texas, and Hawaii, splitting their time between the two locations. Frank's newest passion is to capture Hawaii's magnificent beauty on canvas: oceans, sunsets, mountains, and hula girls. These are just a few of the things he loves in a life of freedom he cherishes.
Raw 1899 is located at 38 North Chadbourne Street in historic downtown San Angelo, Texas. Hours: 4 to 10 p.m. Wednesday to Saturday. Phone: 325-703-6899. Website: www.raw1899.com. Follow Raw 1899 on its socials.