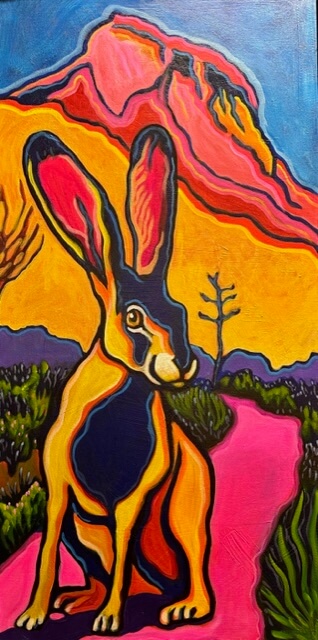 Three Facing West Art Show and Sale
38 North Chadbourne
San Angelo TX, 76904
(325) 703-6899
Price: Free
Date: November 16, 2023 to December 30, 2023
Three Facing West Art Show and Sale
Opens November 16 at Raw 1899 Gallery
San Angelo, Texas: Raw 1899 Gallery, West Texas' premier art gallery located in historic downtown San Angelo, will present Three Facing West Art Show and Sale featuring works by Debbie Carroll, Suzanne Horner, and Val Kerr Hague, November 16 to December 30, 2023.
The Opening Champagne Reception will be 4 to 8 p.m. Thursday, November 16, and the public is invited to attend free of charge and meet the artists.
"We're proud to showcase the works of these three amazingly talented artists, all of whom are from this area" said Lisa Curry, co-owner with Nathana Cox, of Raw 1899 Gallery and Lounge. "Remember that Christmas is just around the corner and carefully chosen art is a unique and enduring gift!"
Carroll's paintings are an interpretation of the arid landscape, flora, fauna, and structures of the Southwestern United States. She embraces graphic, flat plains of color in unexpected, lyrical rhythms and uses color harmony intentionally as a way to express her own voice and vision. "I strive to elevate my subjects," she says, "and reveal the extraordinariness of the familiar."
Horner considers herself a clay and canvas artist, moving back and forth between the two. "A fascination with architecture is a common theme in my work and is often revealed through images of Southwest mission churches," she says. She considers structure, historical longevity, and cultural influences each time she creates.
Hague paints the things most important to her from her upbringing: ranch life, the vast Big Bend country, and the abundant West Texas wildlife. Her style reflects those influences and her love of Mexican folk art and religious icons. She paints black line images filled with bright flat colors and creative textures. She works primarily with acrylic and mixed media.
Raw 1899 Gallery and Lounge is located at 38 North Chadbourne. Hours: 4 to 10 p.m. Wednesday through Saturday. Website: www.raw1899.com. Follow Raw 1899 on its socials.