Top 11 Activities for Families This Summer
June 15, 2023
With all the ups and downs of this past year, there's no doubt that you and your family could benefit from a break. This Summer head to San Angelo, the hidden gem of West Texas. Whether it's for a long weekend, a change in scenery during virtual learning, or a staycation to rediscover what makes our area so special, there are plenty of new, fun, and safe activities to enjoy together in San Angelo.
Here's how to have a memorable Summer exploring San Angelo as a family.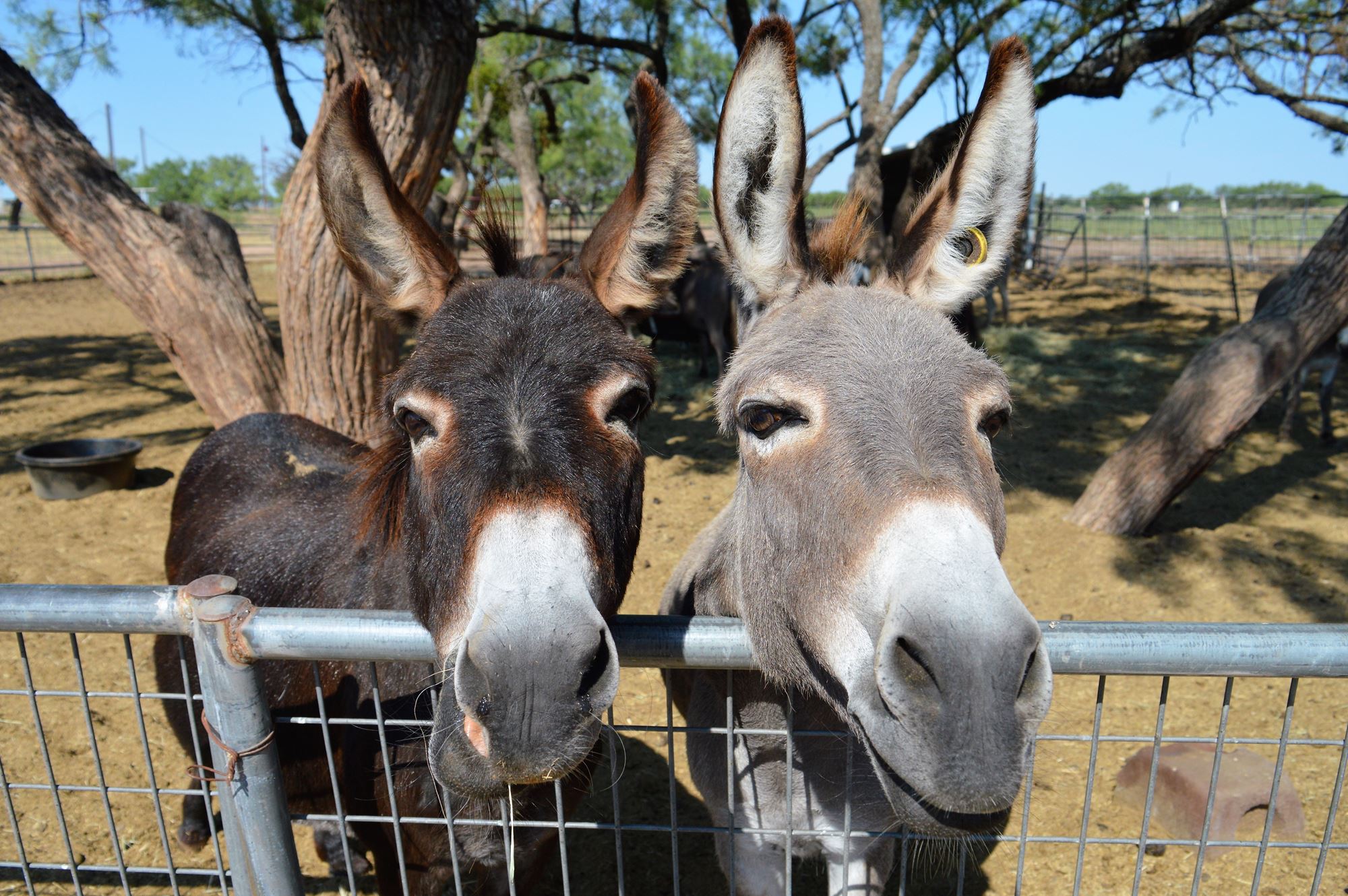 1. Peaceful Valley Donkey Rescue
Donkeys are friendly and extremely intelligent. They're also fuzzy and very cute, and your kids will love getting the chance to get up close to them in San Angelo! During a tour of Peaceful Valley Donkey Rescue you'll get to learn about and interact with these remarkable animals while supporting a great cause. The organization takes in abused, neglected and abandoned donkeys from across the country. San Angelo is where you'll find their main rescue and rehabilitation facility, which spans 172 acres and cares for around 1,000 donkeys at any given time. Tours are by appointment and can be scheduled for most days.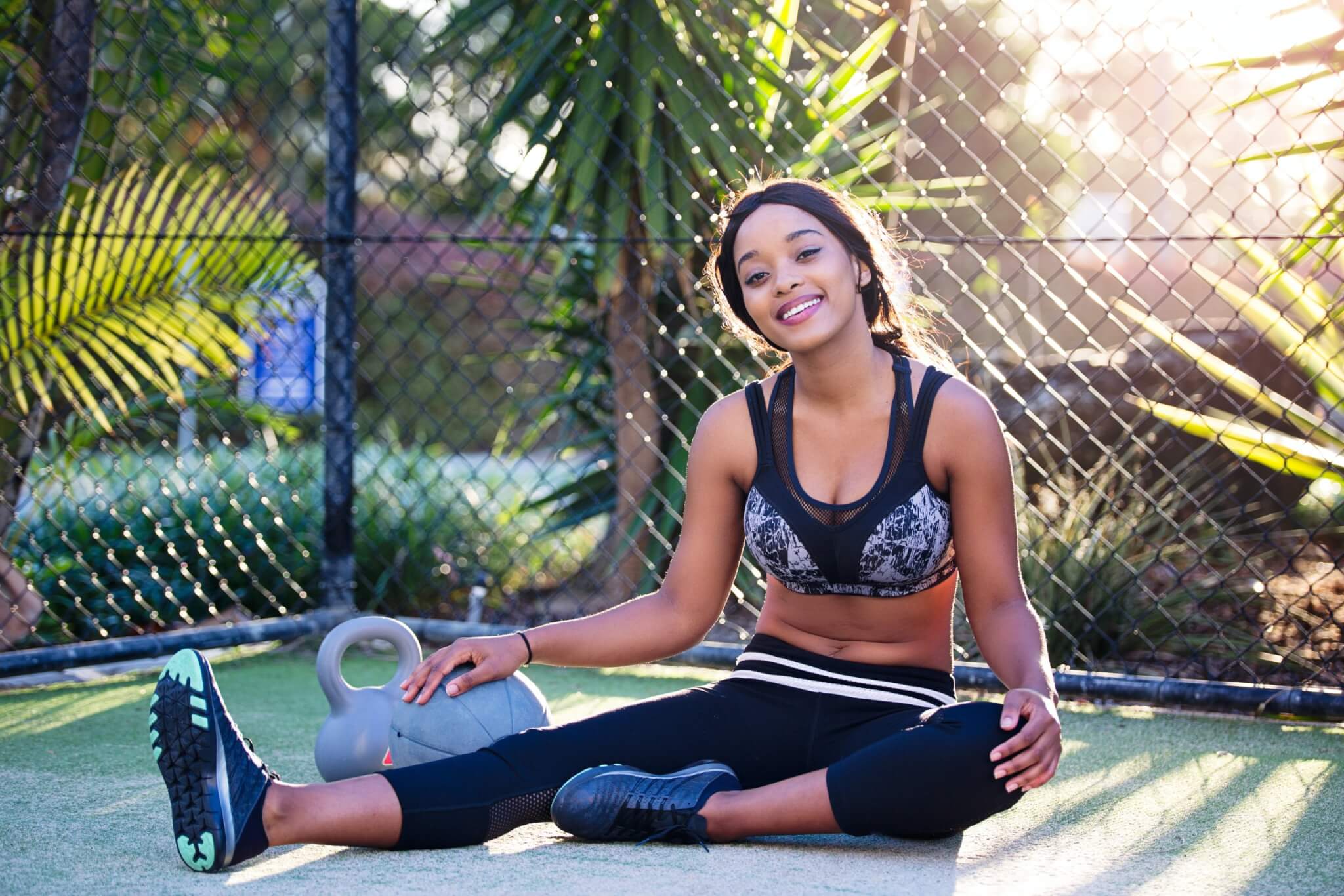 2. Sports Next Level
Did the drought of sports make you long to get back on the field? Head to Sports Next Level, San Angelo's newest destination for athletes looking to hone their skills. Practice your swing in the batting cages or work on your fastball at the multisport simulators. With this state-of-the-art technology you can tee off at Pebble Beach, score penalty kicks while fans cheer you on, improve your spiral as you throw the winning touchdown pass or even battle the undead in zombie dodgeball. Then grab a bite to eat on the patio at the Next Level Grill. Bonus: It's right along the mini-golf course, so you can relax while watching the kids try for a hole-in-one.
3. Ultimate Air Trampoline Park
Catch air as you bound, bounce and flip at Ultimate Air Trampoline Park! Kids and kids at heart will have a blast jumping to new heights. All ages, sizes and physical abilities are welcome, and there's a special spot for the littlest bouncers. When you want to take a break you can speed along the zip line, climb the rock wall or test your strength on the ninja course. With plenty of trampolines you'll be able to jump while maintaining social distancing. As part of its safety measures, Ultimate Air is limiting the number of people per session, so you'll want to reserve your jump ahead of time or call the facility before you arrive to check the capacity.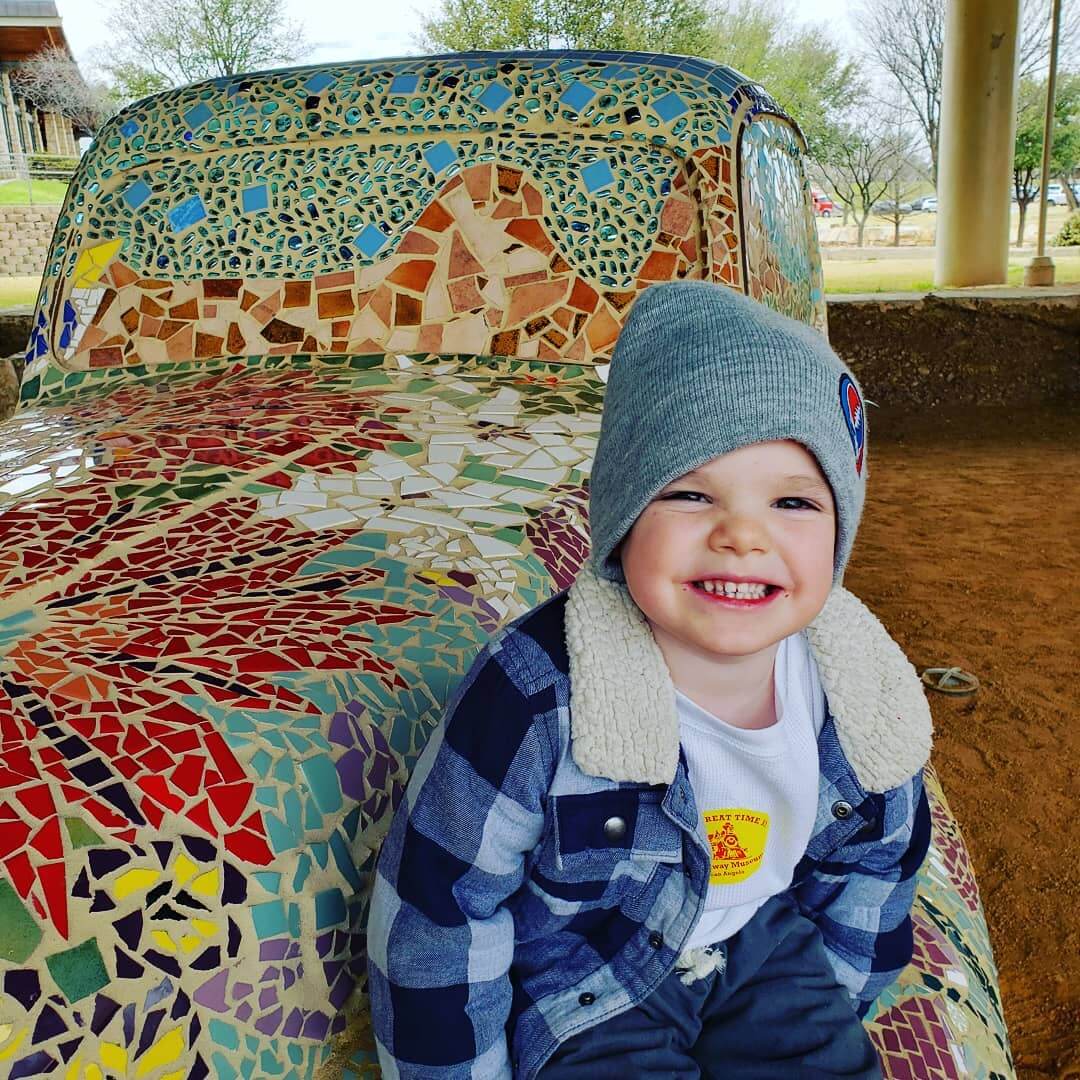 4. San Angelo State Park
Cooler temperatures make fall the perfect time to get outdoors and explore the beauty of San Angelo. You'll find more than 50 miles of trails at San Angelo State Park, a quick drive from downtown. Start with the Dinosaur Trail and stomp along fos­si­lized trackways of pre-dinosaur crea­tures from 250 million years ago. Bring the binoculars and spot birds and deer. Swim, boat or cast a line on the lake or river. For families who can't get enough of the great outdoors, pitch a tent and stay overnight at one of the park's campsites, or reserve a rustic log cabin. No visit is complete without seeing the bison and longhorns—San Angelo State Park is home to the Official Texas State Longhorn herd!
5. San Angelo Nature Center
Continue your discovery of the fauna of West Texas at the San Angelo Nature Center. Always a hit among kids for its hands-on experiences, the Nature Center has more than 100 animals including many native to the area. Crawl alongside a tortoise, feel the rough skin of a lizard or the soft fur of a rabbit, get an up-close look at the quills of a porcupine or feed the gray fox. For fans of the creepy-crawly, there are snakes, tarantulas and hissing cockroaches! If you live nearby or plan to return to San Angelo soon, you may want to consider purchasing a membership. Benefits include free admission for one year, and your contribution helps maintain the center's exhibits and educational programs.
6. Railway Museum of San Angelo
All aboard for a railway adventure back in time! Book your tickets to the Railway Museum of San Angelo to imagine what train travel was like in its heyday. The museum is located in a former train depot that was constructed in 1909 and served the community until the 1980s. Inside you'll find memorabilia, equipment and historical photos, plus operating model trains. Watch them travel through tunnels, towns and varying terrains! The museum hosts railway-inspired story time and Tunes on the Track, a live music series.
7. The Bosque
Outdoor activities in a picture-perfect setting make The Bosque a must-visit attraction during your trip to San Angelo. Set along the Concho River and the award-winning River Walk, the park offers putt-putt, bocce ball, sand volleyball, oversized chess and more. Pose for a family photo in front of the mosaic-tiled car, then cool down with a scoop of ice cream at the concession stand. At The Bosque you can experience how the river brings energy and a sense of community to San Angelo. Rent a paddleboat for a leisurely ride on the water, sure to be a highlight of your time together.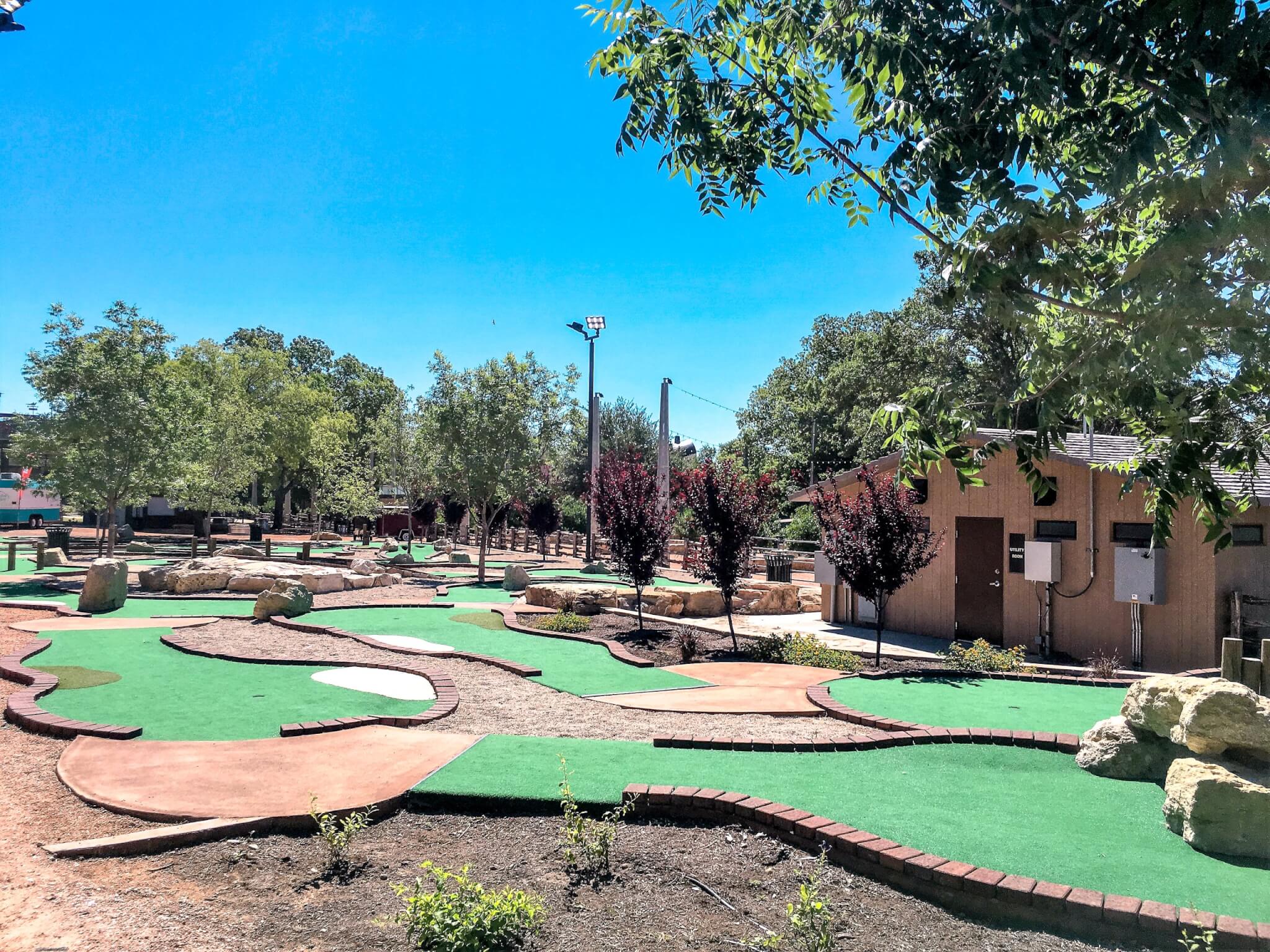 8. Kids Kingdom
Pretend you're a king or queen, or make up your own adventure as you explore Kids Kingdom, a large playground located across from the river in downtown San Angelo. Run across bridges, zoom down slides, then climb, swing and jump. It's a great destination to get little bodies moving after a long day of virtual learning. There is also a separate play area designed for kids 2 to 5 years old. The entire playground is fenced in for added safety, and there are bathrooms on-site.
9. Stadium Lanes Bowling Center
Challenge the family to some friendly competition with an afternoon of bowling at Stadium Lanes Bowling Center. With low prices per person per game and specials throughout the week, it's a budget-friendly way to spend time together. Roll strikes and spares to hit a high score, and watch out for the gutters! Bumpers are available for younger bowlers. Adults and teens will love the music and light shows on Friday and Saturday nights. Safety precautions include space between active lanes, separate bowling balls for each group, and lane-side food and drink service.
10. Angelo Skate & Fun Center
For activities and games the whole family can enjoy, head to Angelo Skate & Fun Center. Always a popular spot, this destination offers laser tag, miniature golf, an arcade and a state-of-the-art skating rink. In-line and roller skates are included in the price of admission. After skating, head outside and putt around waterfalls, trees and a rambling brook at the 18-hole mini-golf course. For safety precautions, Angelo Skate & Fun Center is operating at lower capacity, so you may want to call ahead to make sure you can skate at your chosen time.
11. Think in a Box Escape Room
Crazy old Bill found a treasure trove of gold and then skipped town without a trace. See if you can find the gold—but beware what else you may discover! The Gold Rush Cabin is one of six escape rooms at Think in a Box. Bring your curiosity and creativity! Working together you'll race against the clock to solve challenges. Themes are geared toward different ages and experience levels and include a mysterious laboratory, a Cold War-inspired fallout shelter and a power plant that's in danger of exploding. All rooms are private and accommodate a maximum of six people.