Where To Find Unique Handmade Treasures In San Angelo
January 12, 2023
In the heart of West Texas lies a hidden gem that holds a special allure for both residents and visitors alike. Welcome to San Angelo, a city pulsating with the rhythm of artisanal craftsmanship and the spirit of the Lone Star State. Here, amidst the vast landscapes and untamed beauty, a creative community thrives, weaving the essence of the region into every meticulously crafted piece. Join us on a journey to San Angelo, where the spirit of the West meets the finesse of human creativity. In this blog series, we'll delve into the stories behind these masterpieces, the artisans who breathe life into them, and the rich cultural tapestry that has inspired generations. Get ready to uncover the beauty of West Texas, one handmade treasure at a time.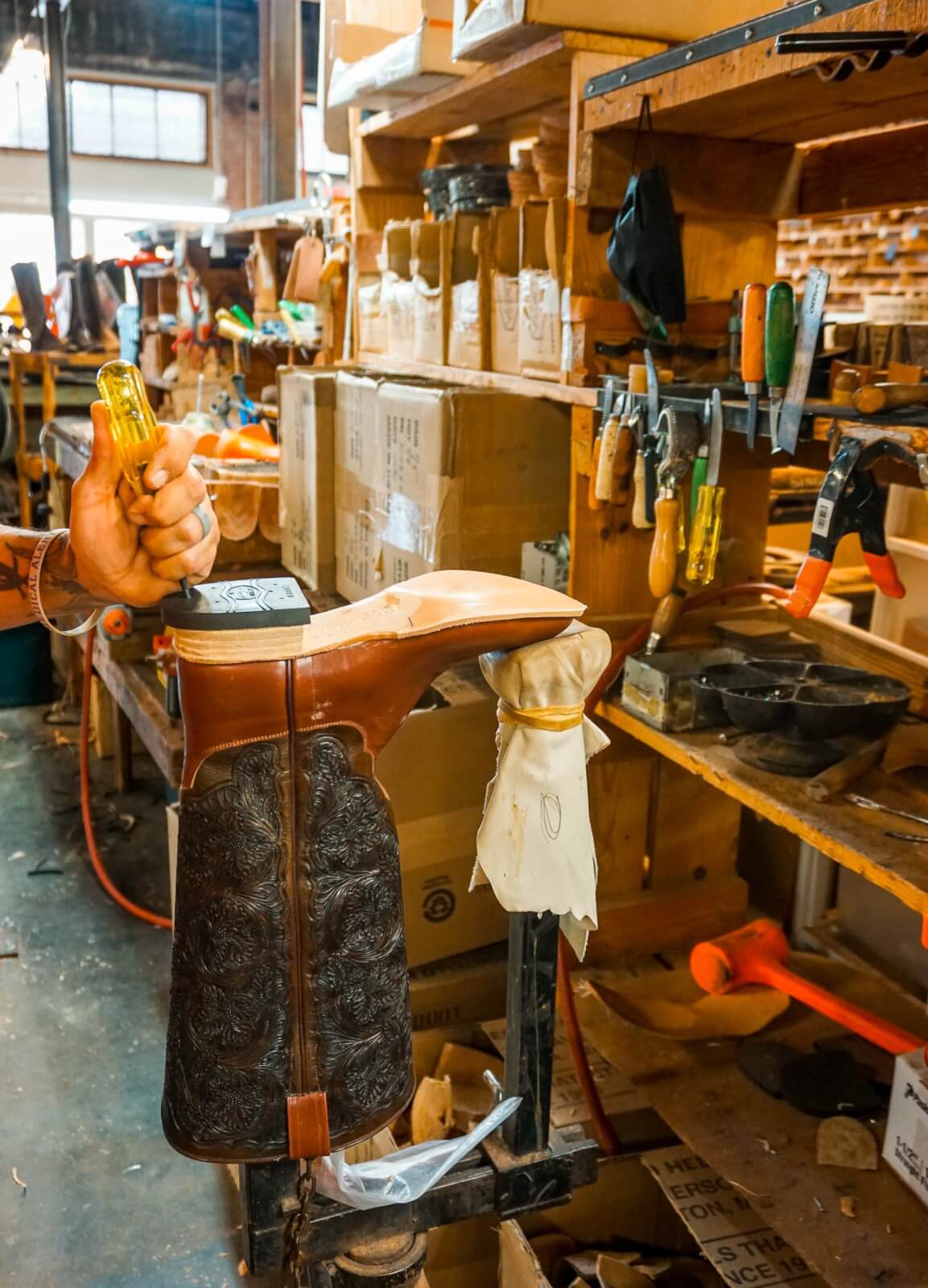 M.L. Leddy's Handmade Boots
You can't miss the iconic sign of M.L. Leddy's in downtown San Angelo. As the glowing larger-than-life boot beckons, here you will find handcrafted boots, made one at a time on site. In the early 1920s, M.L. and his brothers set out to make high-quality boots while offering excellent customer service. Four generations later those traditions and ideals still stand. When you get a custom-fitted pair of boots you become part of M.L. Leddy's history. Your measurements are written down in an old-fashioned ledger, right along with celebrities, athletes, politicians, and 250,000-plus customers going back decades. Leddy boots are truly stunning in their quality and construction and will be treasured by the wearer for their comfort and durability. In addition to boots, at M.L. Leddy's you can browse hand-shaped and fitted hats, hand-tooled belts, silver buckles, tailored Western clothing, and artisan jewelry.
Picture this: high-quality, handmade gifts imbued with the authentic charm that only West Texas can offer. A stroll through San Angelo unveils a tapestry of artistry that beckons you to explore further. From the rugged elegance of handcrafted boots that tell tales of the frontier to the timeless elegance of artisanal hats that shield from both the sun and the passage of time, every creation is a testament to the dedication and skill of local artisans.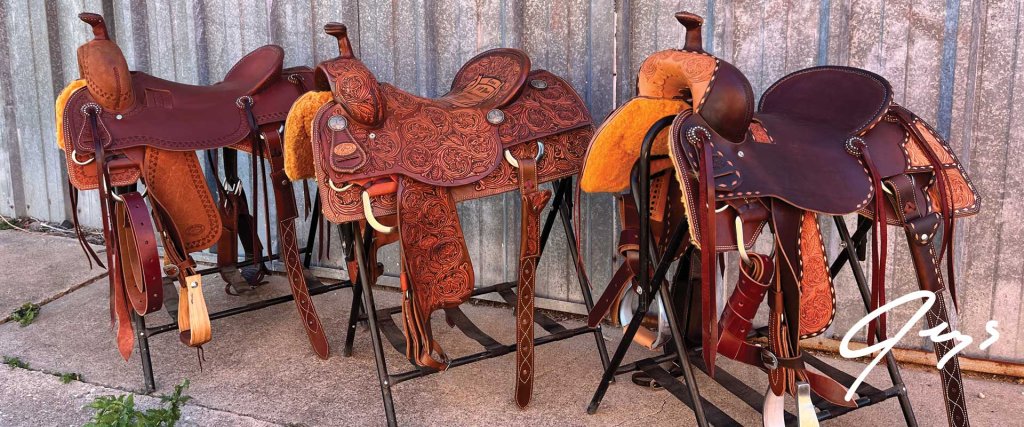 Jeys Saddlery
"If it's built out of leather, we can build it," says Todd Jeys of Jeys Saddlery, who makes custom saddles and leather goods that are as beautiful as they are functional. Todd spent more than a decade learning how to make saddles from his uncle before starting his own business in 2004. He works closely with each customer, getting to know them to design a saddle to their exact needs and specifications. You will marvel at Todd's workmanship and his intricate hand-cut tooled designs. Oak leaves, pinwheels, poinsettias, and other flowers are carefully carved into the leather. Shopping for someone who doesn't ride horses? At Jeys Saddlery you will find other stunning handcrafted gifts including leather bags, tablet cases, chaps, and knife and gun holders. Or contact the store directly and have something custom-made.
J.L. Mercer & Son
From flags to flowers, cacti to cartoon characters, there's no limit to your creativity when it comes to a custom pair of boots at J.L. Mercer & Son. The smell of leather and a feel for the past greet you when you step inside the shop. J.L. Mercer & Son was established in 1923, and its nearly 100 years of history hang on the walls. In new and aged photos you will see some of the many boots J.L. Mercer has made, along with the legends who have worn them, including Lyndon Johnson, John Wayne, and Billy Ray Cyrus. Each pair of boots is truly a piece of art, and with an almost infinite number of customizations, can show off the personality of the wearer. The quality that comes from being crafted by hand means these boots last a long time, so your special someone (and you too, since you'll certainly want to get your own pair!) can enjoy them for years to come.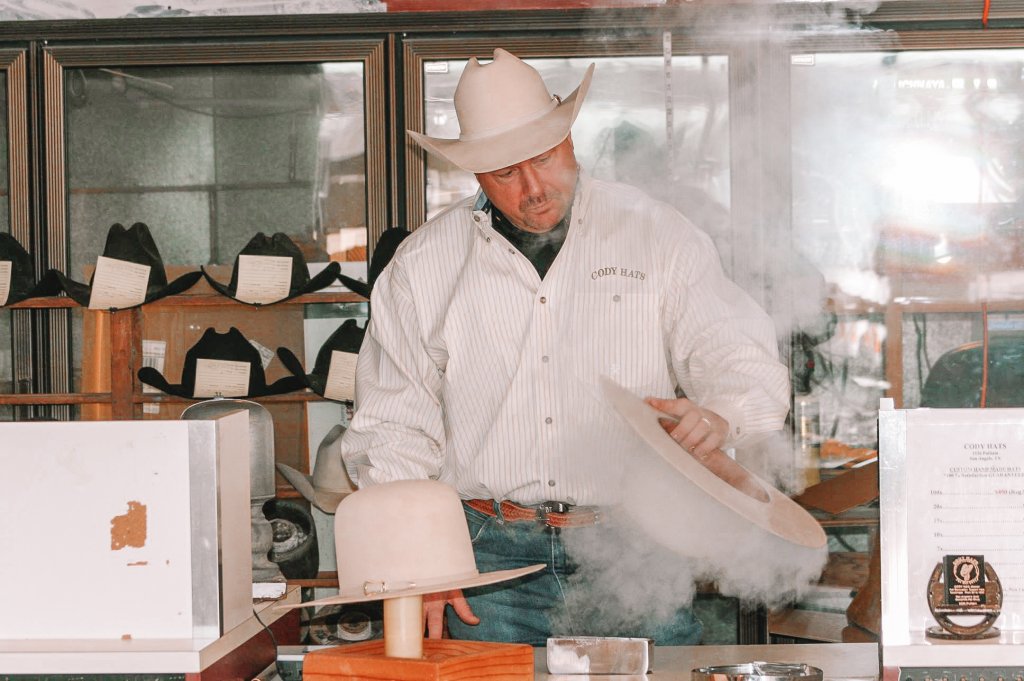 Cody Hats and Boot Repair
Calling all cowboys and cowgirls—along with those who love to look the part! Cody Hats and Boot Repair is the place to go for custom cowboy hats. For 25 years, Cody May has been outfitting working cowboys, celebrity rodeo cowboys, and locals in the know, using steam to hand-shape hats for just the right fit. Quality, comfort, and style, you will find it in every felt or straw hat. Cody can also give new life to those well-loved boots, replacing the soles and heels or even updating the design.
But it doesn't stop there. Leatherwork, a craft deeply ingrained in the history of the region, takes center stage as skilled hands mold and shape this versatile material into objects that are not just functional but also bear the mark of true artistry. In San Angelo, you'll find more than just gifts; you'll find pieces of history, culture, and the very soul of a place, all intricately intertwined.
Mr. Boots
When it comes to the West Texas lifestyle, Mr. Boots has you covered from head to toe. Here you will find hats, boots, jeans, belts, bags, vests, coats, and more from well-known Western brands. Founded in 1974, Mr. Boots has always been family owned and operated. You will feel like you are part of the family when you shop here—locals recommend Mr. Boots in part because of the friendly, personalized service. Get your favorite guy a belt buckle or button down, or treat your wife, girlfriend, mom, or daughter on a shopping spree. It's a blast to browse the racks of clothing, and the selection at Mr. Boots changes constantly. From practical to playful, there are plenty of accessories that make great stocking stuffers. Or get colorful matching Western-inspired vests for the entire family and take a memorable photo.
Cavender's Western Outfitter
Since 1965 Cavender's has been a trusted name for cowboy boots and Western wear. From its humble beginnings in a small East Texas town, the family-run business expanded across the state and beyond. Today Cavender's has sold millions of pairs of boots. At its San Angelo store, you will find a vast selection of boots, hats, and clothing for all ages at affordable prices. Want to showcase your state pride or are you looking to send a piece of Texas to someone out of town? Cavender's has plenty of Lone Star State-inspired gifts, toys, and home décor.