Plan A Road Trip To San Angelo, Texas
July 21, 2022
Beep Beep! Road trips have been a great American pastime since Henry Ford started rolling Model Ts off the production line in the early 1900s. It's a great way for families and friends to bond and celebrate shared experiences on the open road. If you're looking for your next adventure that includes history, culture, and culinary delights, fuel up the gas tank, gather your travel buddies, and take a road trip to discover charming destinations like San Angelo, Texas.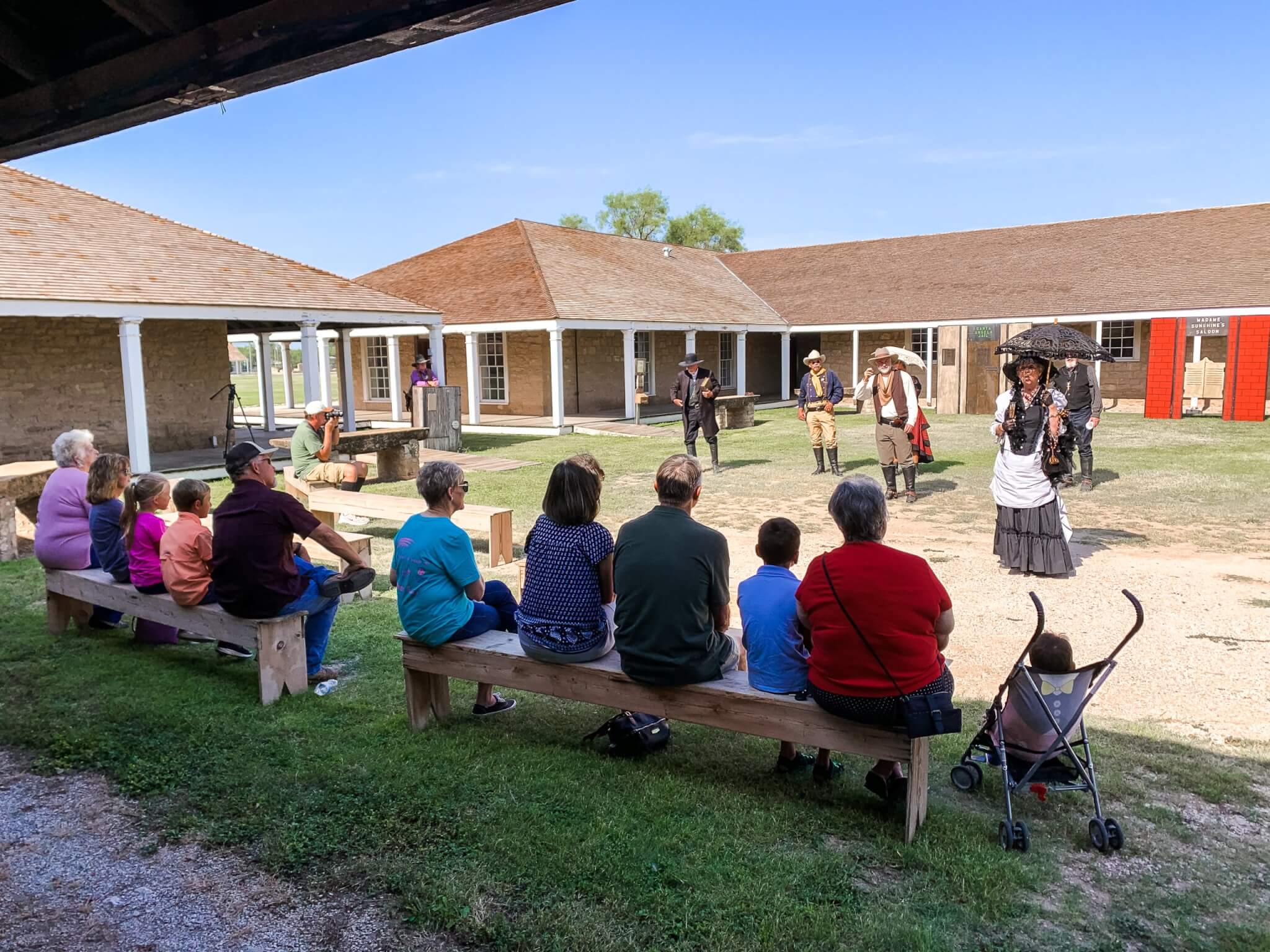 When you need to stretch your legs
Step back in time at Fort Concho National Historic Landmark near downtown. From 1867 to 1889, Fort Concho served to protect the area's frontier settlements as well as to map the region while the nation stretched westward. As you roam the fort's collection of buildings, imagine the echo of William 'Pecos Bill' Shafter's boots as they scuffed the wooden floors; the snores from regiments of Buffalo Soldiers and infantry as they slept in their barracks; and the neighs of weary steeds as cavalry troops tended their mounts in the dusty stables.
Home to bison and the official Texas State Longhorn Herd, San Angelo State Park offers camping sites and cabin rentals. But if your schedule is tight, consider a picnic near the Concho River followed by a geocache treasure hunt or a hike along the park's many nature trails.
The award-winning Concho River Walk, a meandering urban trail in the heart of San Angelo, offers more than 4 miles of walking trails along the riverbank with expertly designed public art, parks, bridges, gardens, and more for you to admire. At The Bosque on the Concho River, you'll find entertainment for the whole family that includes mini golf, paddleboats, volleyball, bocce ball, and washer pitching (a tossing game similar to horseshoes). Or, try some strategic moves on the oversized chessboard.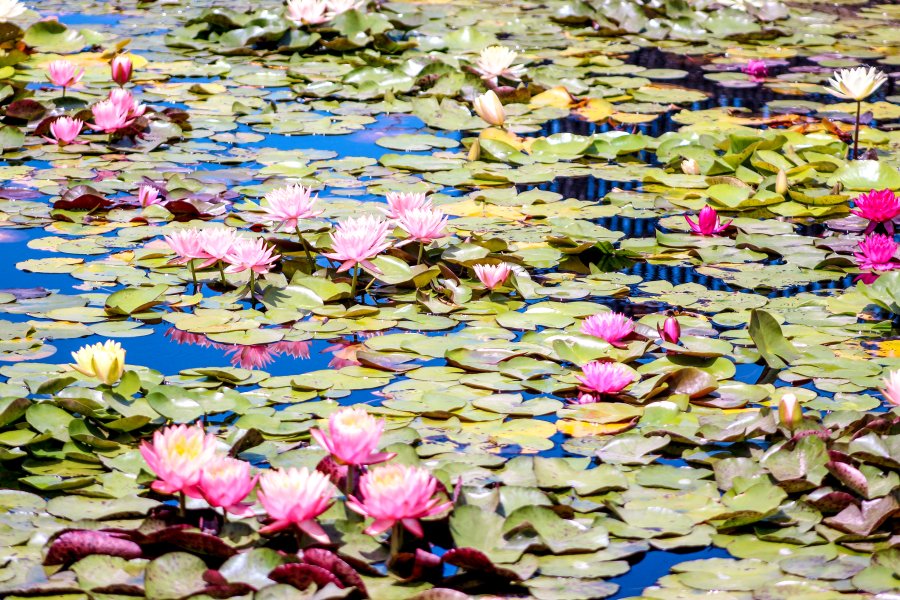 Cross the Beauregard Avenue Bridge to Civic League Park for the International Waterlily Collection, where an impressive assortment from the world's largest waterlily collection is displayed. The delicate floating flowers will add a vibrant touch of nature and romance to your pictures. Think Claude Monet and his "Bridge over a Pond of Water Lilies" painting.
For artistic inspiration that is quintessentially San Angelo, visit the San Angelo Visitor Center, a picturesque location on the Riverwalk, and pick up maps for self-guided tours in the city: the Historic Murals of San Angelo and the Sheep Statues of San Angelo. For the murals tour, call the number on the map to learn the story behind each of the 14 civic paintings that illustrate and commemorate the history and people who have shaped the community. Likewise, the 48 sheep statues (each decorated or designed by a different artist) celebrate and honor the importance of the wool industry in the area. Get started with the "Welcoming Ewe" just outside the Visitor Center.
For more classic art, view the exhibits at the San Angelo Museum of Fine Arts. The museum's permanent collection contains items from all mediums with a focus on Texas and Spanish Colonial art, ceramics, American glass, outdoor sculpture, and the Scripps Howard Library, which provides archived material for research purposes. Current exhibits and special events are listed on the website.
When it's time to eat
San Angelo offers plenty of dining options to satisfy any cravings. After a long day on the road, nothing beats good old American comfort food. At Western Sky Steakhouse, it's all about the food. You'll enjoy a variety of cuts, award-winning burgers, and Mexican-style food in a cozy dining room. Or, choose from 14 different burger variations at the popular Twisted Root Burger Company. The restaurants also offer 11 decadent milkshake blends. Salads, fries, hotdogs, cocktails, and kids' selections complete the menu.
But, comfort food doesn't have to be American. Enjoy a steaming noodle bowl at What Da Pho, serving Vietnamese dishes that will warm your soul. Or, dip some naan into a saucy bowl of korma at Bombay to Kathmandu Kitchen, where classic Indian food will get your taste buds hopping like a Bollywood musical.
A local favorite Miss Hattie's Restaurant & Cathouse Lounge serves classic options for lunch and dinner, paired with fine wines and cocktails in a historic 1880s building downtown. Meanwhile, The Grill, another popular eatery known for its fresh ingredients, upbeat atmosphere, and excellent service, serves spicy Southwest cuisine and refreshing cocktails. Plan your visit to enjoy the daily happy hour and brunch on the weekends.
To sip a cold one, unwind and sample some extraordinary craft beer at The Martial Pint where tasty, frothy concoctions can be enjoyed on draft, in bottles, cans, growlers, and even kegs. You can also get some to go!
When you want to listen to some tunes
Tune in to something new and groovy at The House of FiFi Dubois, where the live performances are as diverse as the music collection. Enjoy great drink specials in the courtyard, where the permanently parked Airstream travel trailer epitomizes its eclectic, retro vibe.
Fiddlestrings Bar & Patio is the place to go for outdoor fun and to hear melodies on string instruments. The bar also has arcade games, billiards, TVs to catch your favorite sporting events, and Sunday Funday featuring a swimming pool.
The Murphey Performance Hall on the campus of the San Angelo Performing Arts Center (home to the San Angelo Symphony and Ballet San Angelo) hosts headlining performers and touring Broadway musicals. See what coincides with your travels on its upcoming events page, which includes both matinees and evening shows.
When you need to catch some sleep
Never push your road warrior limits after dark. With San Angelo's many affordable overnight accommodations, you won't need to. Choose from branded hotels, motor lodges, and bed-and-breakfast establishments like charming Flamingo Flatts conveniently located in the midst of downtown—making it easy to enjoy a bit of the nightlife before calling it a night.