An Art And Culture Guide To San Angelo, Texas
September 1, 2022
As the newly designated Visual Arts Capital of Texas, San Angelo has a vibrant cultural scene that will leave you in awe and wanting more. You'll find national landmarks, a thriving performing arts scene, art studios, and sculpture competitions. The city pays homage to its rich history with colorful murals depicting the bygone era and fiberglass sheep that honor the region's wool prominence. Stroll through historic downtown; take in a performance at the renovated theaters, and dine and dance at the popular pubs and lounges. You'll make many discoveries in this charming Texas city.
Come one and come all to San Angelo, where history and culture take center stage, and local artists add beauty to the city that sparkles along the Concho River.
SAN ANGELO MUSEUM OF FINE ARTS
Overlooking the Concho River, the San Angelo Museum of Fine Arts has phenomenal panoramic views of the city from its rooftop sculpture terrace. With three spacious galleries, SAMFA offers beautiful collections, including "The Garden of Earthly Delights," featuring the work of Julie Heffernan and Kathleen Elliot, and "The Ehrlich Collection of American and British Ceramics." Before you leave, pick up a locally-made souvenir at the gift shop to bring a piece of the museum home with you. SAMFA also has Family Day, where you can spend a day with the kids getting crafty. To experience art outside the museum, take a short drive to the Sunken Garden Park to admire outdoor sculptures that are part of the Richard and Pam Salmon Sculpture Competition, a biennial juried exhibition hosted by the museum.
1 Love St., San Angelo
325-653-3333
CHICKEN FARM ART CENTER
Don't expect to find chickens running around at The Chicken Farm Art Center. Instead, you'll be delighted to discover local artists set up in refurbished farm buildings showcasing their creations. Admission is free, and you can find everything here from paintings to sculptures. The center also has First Saturday, where every first Saturday of the month you can enjoy live music, kid's activities and great food from the Una at the Silo.
2505 Martin Luther King Drive, San Angelo
325-653-4936
ART IN UNCOMMON PLACES
Art in Uncommon Places, a passion project from two retired art teachers, Julie Raymond and Joy Thomas, has been beautifying the Concho Valley city since 2006 with more than 300 locally made art installations placed throughout San Angelo and the region. As you stroll City Park, you'll find a vintage fire truck decorated with mosaic tiles honoring firefighters; a collection of sculptures with funky shapes and colors titled "Dick & Jane" greets you as you enter Concho Community Park; and solar-charged glow stones light up at night along the trail in Red Arroyo Park. There's something for you to admire around every corner.

Paintbrush Alley is located in downtown San Angelo, Texas located between Twohig & Concho running from Irving to Chadbourne. More than 50 artists donated their time to provide artwork in the alley. The art is based on the movie Giant, and local artists created their interpretation of the movie, based on the oil and gas, and ranching industries.
The Pop Art Museum has been a local hot spot since its grand opening. With 31 pieces, the former bowling alley showcases the work of local artists, including a piece from James Gill. He worked with Andy Warhol, an iconic leader of the Pop Art movement. All artwork has a QR code that can be scanned for information about the artist and their works.
325-245-5472
FORT CONCHO NATIONAL HISTORIC LANDMARK
If you're a history buff, you'll love spending the day at Fort Concho, located along the banks of the Concho River. From 1867 to 1889, the fort served as the regimental headquarters for the fourth and 10th Cavalry, which included the Buffalo Soldiers, who protected the West Texas region. The fort consisted of 40 buildings built from native limestone spanning 1,600 acres. Take a walk back in time through 23 original and restored barracks, headquarters, the hospital, and residences. The fort hosts re-creations of the 10th cavalry on Buffalo Soldier Heritage Day in February. After your nostalgic visit to the fort, step back in time on Historic Concho Avenue and enjoy a meal at Miss Hattie's Restaurant and Cathouse Lounge.
630 S Oakes St., San Angelo
325-481-2646
HISTORIC MURALS AND SHEEP STATUES OF SAN ANGELO
You'll instantly notice two prominent features in San Angelo— fiberglass sheep and vibrant historic murals. The sheep statues, placed in front of businesses, are decorated by local artists. These impressive statues commemorate San Angelo's historical importance as a wool-making center and the annual Miss Wool Pageant, which showcased wool fashions from 1952 to 1972.
The Historic Murals of San Angelo preserve buildings of historic significance and promote community pride with impressive works of public art. The murals showcase stunning works like the "Stagecoach Mural," representing early transportation that brought pioneers to San Angelo, and the impressive "Chadbourne St. Mural," which depicts the carefully researched placement of businesses that existed on that street in 1908. This mural gives you a chance to simultaneously see the block in its past and present form. After you've viewed the murals and spent some time on Historic Concho Avenue, grab a cold beer at Zero One Ale House, a modern hangout with a full bar and creative pub fare.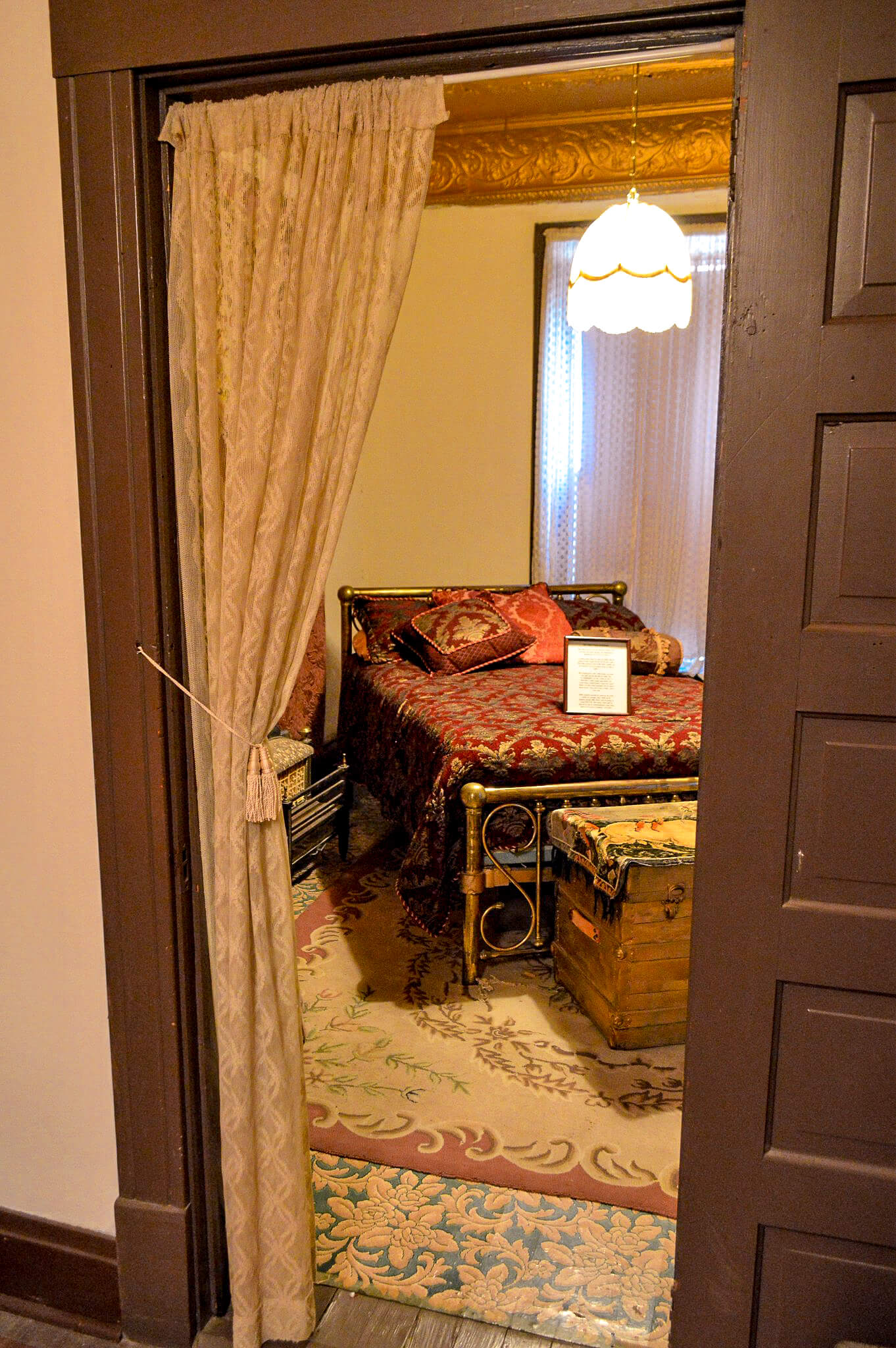 MISS HATTIE'S BORDELLO MUSEUM
For 50 years, soldiers and cowboys paid a visit to this friendly Concho city establishment— Miss Hattie's Bordello, now a museum. The building dates back to 1896 and still has its original ceiling, floors, stairs, and furnishings from the Hattie era that began in 1902. The Hattons moved in as a young couple, and soon were divorced and living on separate floors in the house. The first floor, currently occupied by Legend Jewelers, was where Mr. Hattons operated a saloon back in the day. Upstairs, Ms. Hatton turned to the oldest profession and ran the bordello until 1952. Explore your curiosity with a tour offered Tuesday-Saturday. Tickets may be purchased inside Legend Jewelers at the counter. Afterward, walk over to The Angry Cactus for a bite to eat and drink, and toast to the history of the city.
18 E Concho Ave., San Angelo
325-653-0112
SAN ANGELO PERFORMING ARTS CENTER
At the sprawling downtown campus of San Angelo Performing Arts Center, known as San Angelo PAC, you'll find The Stephens Performing Arts Center, which was once a Coca-Cola bottling plant. The Center houses the Brooks & Bates Theatre, a Black Box Performance Space, theater shops, and several ballet studios. After watching a captivating performance here, keep the night going, put on your dancing shoes, and head over to nearby Blaine's for country music, or visit The House of FiFi Dubois for live acts performing everything from classic rock to country and blues.
82 Gillis St., San Angelo
325-284-3825
ELTA JOYCE MURPHEY PERFORMANCE HALL
At the San Angelo PAC campus, you'll be impressed with the renovated City Auditorium, now the Elta Joyce Murphey Performance Hall. The City Auditorium has hosted the likes of Elvis Presley, Will Rogers, Alison Krauss, and George Lopez. Preserving the original décor, it is now home to the San Angelo Symphony, Ballet San Angelo, and the San Angelo REVOLUTION Film Festival.
72 W College Ave., San Angelo
325-284-3825